Nato calls emergency meeting amid claims Trump is threatening to withdraw US membership
The Independent
12/07/2018
Video: Trump Says U.S. Commitment to NATO `Remains Very Strong' (Provided by Bloomberg)
Nato members have called an emergency meeting amid conflicting reports that Donald Trump is threatening to pull the US out of the alliance. 

LIVE UPDATES: US President to arrive at Stansted within hours (Evening Standard)
In a press conference following the meeting, the US president then said he was satisfied by members' commitment to increase spending.

He said that allies were probably worried because the US was not being treated fairly, but now it was.
"Countries are going to start upping their commitments… I let them know I was extremely unhappy with what was happening, and they have substantially upped their commitments."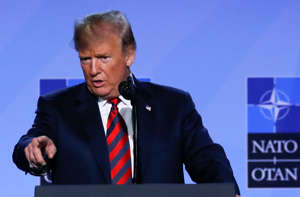 © Reuters U.S. President Donald Trump holds a news conference after participating in the NATO Summit in Brussels, Belgium July 12, 2018. REUTERS/Yves Herman On Wednesday, Trump had hinted he wanted member states to pay 4 per cent of their GDP to Nato, a doubling of the current commitments.

Speaking Thursday he said that, "right now we're getting people up to 2 per cent."
He referred to the US having paid "90 per cent" of Nato. In reality, last year the US paid 71 per cent of the total paid toward Nato.
Earlier on Thursday, Mr Trump's fresh attack on Nato allies' failure to raise defence spending prompted leaders to huddle in a special session, excluding other summit participants, sources told Reuters.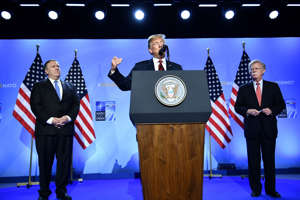 © Getty US President Donald Trump (C) is accompanied by US Secretary of State Mike Pompeo (L) and US National Security Advisor John Bolton (R) as he addresses a press conference on the second day of the North Atlantic Treaty Organization (NATO) summit in Brussels on July 12, 2018. (Photo by Brendan Smialowski / AFP) (Photo credit should read BRENDAN SMIALOWSKI/AFP/Getty Images) At one point, in a break with diplomatic protocol, a source said Mr Trump addressed German Chancellor Merkel by her first name and told her: "Angela, you need to do something about this."

"We had a very intense summit," Ms Merkel herself told reporters after the meeting.
Invited leaders from non-NATO countries Afghanistan and Georgia were asked to leave along with most Nato leaders' retinues of officials, as the heads of state and government of the Western alliance sought to deal with the man whose nation commands much of the budget and forces for Europe's defence.
Mr Trump had opened the first day of talks in Brussels on Wednesday with a public diatribe against Germany, the second biggest state in the Western defence alliance.
More follows…