Judge apologises after dozing off during High Court hearing

The Telegraph
12/02/2019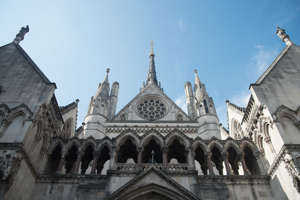 © Alberto Pezzali/NurPhoto View of The Royal Court Of Justice, London on July 25, 2017. It has became the scene of the legal dispute about Charlie Gard's illness. The High Court deals at first instance with all high value and high importance cases, and also has a supervisory jurisdiction over all subordinate courts and tribunals, with a few statutory exceptions. It has three main divisions: the Queen's Bench Division, the Chancery Division, and the Family Division. (Photo by Alberto Pezzali/NurPhoto via Getty Images) A High Court judge has "expressed remorse" after falling asleep during a hearing.

Mrs Justice Parker, 68, who is based in the Family Division, briefly dozed off during a case in London.
An investigation was launched after lawyers involved lodged formal complaints.
The Judicial Conduct Investigations Office (JCIO) revealed she had been given "formal advice" but avoided further punishment because she nodded off "only momentarily".
The JCIO said Lord Chancellor David Gauke and Lord Chief Justice Lord Burnett had concluded that her conduct had the potential to undermine public confidence in the judiciary.
It did not detail when the incident took place but it is understood to have been some time last year in London.
© Provided by Associated Newspapers Limited Mrs Justice Parker, pictured, 'momentarily' dozed off during a family hearing at the High Court Mrs Justice Parker is the second  longest-serving judge in the Family Division of the High Court, having been appointed in 2008.

A JCIO statement said: "Mrs Justice Parker has been issued with formal advice following a complaint by parties in a case that she had fallen asleep during a hearing.
"While concluding that this amounted to conduct which had the potential to undermine public confidence in the judiciary, the Lord Chancellor and the Lord Chief Justice took into consideration that the judge fell asleep only momentarily and has expressed remorse for doing so."
The case did not have such severe ramifications as that of Manchester-based Recorder Philip Cattan, then 65, who fell asleep whilst presiding over a rape trial in 2014, causing it to collapse.