Pakistani anchor gets hit by ball of fire on live TV. Watch viral video

India Today
07/12/2018
© Getty Representational picture An unsuspecting Pakistani journalist was in for the rudest shock of his life when he got hit by a ball of fire during a live TV broadcast.
The anchor was in a panel discussion during a live broadcast when suddenly the ball of fire hit him. In the video clip that has been circulating crazily on social media, one can hear a sound of a cracker-like burst followed by the unprecedented mishap on live TV.
Take a look at the video first:
What just happened with this news anchor? pic.twitter.com/RoYLekEit0

Naila Inayat (@nailainayat) December 5, 2018
The anchor gets visibly shaken by the burst sound and is hit by the fire just a few seconds later. He immediately gets out of the frame while the panelist answers his question and tries to save himself from the fire.
Related slideshow: 30 most shocking things that have ever happened on live TV (Provided by Best Life)
This is the most bizarre thing we have seen in the longest time.
But this is not the only bizarre thing that has happened on a Pakistani news channel. Just recently, Pakistani PM Imran Khan was trolled mercilessly for a very stupid mistake made by the Pakistan Television Corporation.
Related Slideshow: News in Pictures (Provided by Photo Services)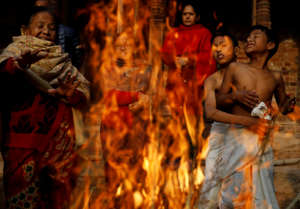 The channel ran Begging' on its location label instead of Beijing' while Imran Khan was speaking live from the capital of China. This gaffe went viral and Imran Khan was trolled left, right and centre because of the irony of the situation.