Wallet lost in 1952 returned to owner's son

CBS News
02/03/2017
© Provided by CBS Interactive Photograph PHILADELPHIA -- A wallet has been returned to the son of its owner after being sealed behind a bathroom wall 65 years ago.
It was discovered by a contractor working on a home in Pennsylvania, where it was sealed behind a medicine cabinet, CBS Philadelphia reports. The contractor managed to track down Adam Weber, whose late father Harry Christian Weber had done tile work on the home in 1952.
"The last Weber to hold it was 65 years ago," Adam told CBS Philadelphia.
There was no money in the wallet, but other mementos were found inside, including a photo that Weber hadn't seen in years.
"The one thing that really hit me was the wedding picture, because I hadn't seen it in 12 years," Weber told CBS Philadelphia, holding back tears.
His father's draft card, a weekly pay stub and a photo of his prized car, an Oldsmobile "Rocket" 88, were also discovered in the wallet.
"I thought he was, you know, kidding me about his car, his Rocket 88," Weber said. "I'm like, what the heck's a Rocket 88?'"
Weber's father died in 2005. His initials appear on the inside of the wallet. 
© CBS Philadelphia wallet2.png "It's a nice way to reconnect with him again," Weber said.
Weber told CBS Philadelphia he's considering leaving a wallet of his own hidden in his walls for his children to find.
15 of history's greatest unsolved mysteries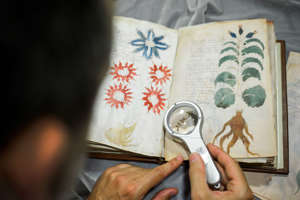 16 of history's greatest unsolved mysteries