15 incredible oceanside pools you can take a dip in

Photos
15/08/2019
Be it natural grottoes or man-made concrete baths, oceanside pools offer a substitute seaside experience which is no less, what with picturesque sea-and-sky views amid serene waters. Let's take a look at some incredible oceanside pools around the world. 
*Please check the local advisory on tides before accessing such pools.
Porto Moniz, Portugal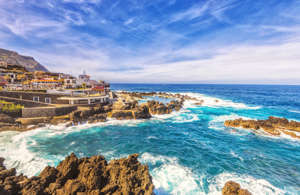 © Juergen Sack/Getty Images The village on the northwestern coast of Madeira Island comprises natural salt pools whose walls have been formed over the years by cooling of volcanic lava. The salt baths are easily accessible by steps leading down to the water and footpaths built around them. 
Treyarnon Bay, England 
© In Pictures Ltd./Corbis via Getty Images The Treyarnon tidal pool in Cornwall is a key attraction for swimmers and snorkelers. The eight feet (2.4 meters) deep pool is refilled with fresh seawater by high tides. 
Giola, Greece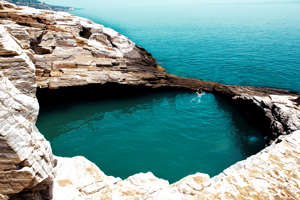 © Getty Images The beautiful natural lagoon with pristine water is located on the Thassos island in the region of Astris. Measuring around 49.2 feet (15 meters) across and 65.6 feet (20 meters) long with a 26.2 feet (eight meters) high wall, it is a popular site for adventurous swimmers. 
Bondi Icebergs Pool, Australia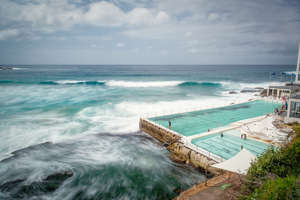 © James Kang/EyeEm/Getty Images The massive saltwater pool in Sydney has been built into the cliffs just above the Tasman Sea. The water here is colder than the sea because of the concrete walls. To become a member of the pool's winter club, patrons need to swim here on three of the four Sundays during the season for five years.
Queen's Baths, Bahamas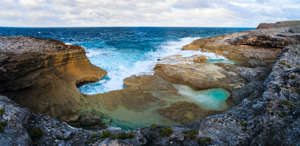 © shalamov/Getty Images  Located on the island of Eleuthera, the natural pools with crystal clear water are filled with shells and small sea life that comes from the Atlantic Ocean with the tides. The water is warmed by the sun making its temperature ideal for soaking. Wear a pair of water shoes or sneakers as the terrain is completely rocky. 
Saunders Rock, South Africa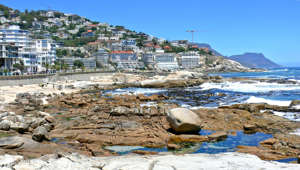 © ShutterStock Cape Town's rocky beach has many a tidal pools which are surrounded by granite boulders that shield the swimmers from harsh winds. With a nearly perfect vantage point, it is one of the ideal spots to watch the setting sun.
Azenhas do Mar, Portugal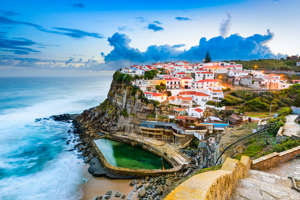 © SeanPavonePhoto/Getty Images Located by what can be arguably called one of the most underrated beaches of the country, the natural pool is cut into the base of the cliffs and is easily accessible by steps. Low tide is said to be the best time to visit the pool coinciding with a picturesque view of the sunset.
Bogey Hole, Australia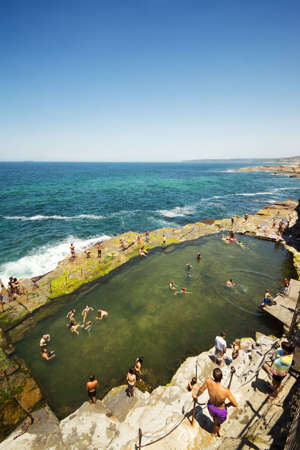 © Kokkai Ng/Getty Images One of the oldest ocean pool on the country's east coast was carved out of a cliff in Newcastle by convict laborers for Lieutenant Colonel James Thomas Morisset in 1820 for his personal use and expanded in the late 19th century. The pool is a protected heritage site.
Queen Joan's Baths, Italy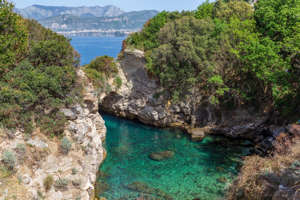 © Jef Wodniack/Shutterstock Named after a 14th century queen of Naples, the pool is surrounded by the ruins of Roman villa and framed by a natural arch, making it an ideal spot for both swimmers and shutterbugs. The warm turquoise water off the coastal town of Sorrento is only accessible by foot.
Grotto della Poesia, Italy 
© e55evu/Getty Images The 100 feet (30.48 meters) wide and 30 feet (9.14 meters) high natural sinkhole in Salento is made of limestone, comprising blue and green water and is an ideal spot for cliff jumping. Once done with your swim, you could also explore archaeological sites nearby such as Grotto della Poesia Piccola, whose walls are covered in ancient inscriptions.
To-Sua Ocean Trench, Samoa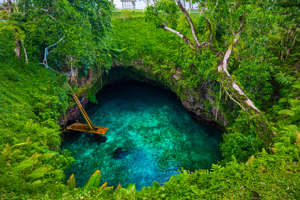 © mvaligursky/Getty Images You can access the sparkling green waters of the 98.4 feet (30 meters) deep pool with a wooden ladder that may seem terrifying to some. Formed during an ancient lava eruption, the pool on 'Upolu Island is filled with seawater and connected to the ocean by canals, tunnels and an underwater cave. It is surrounded by luscious tropical gardens above.
Tunnels Beaches in Ilfracombe, England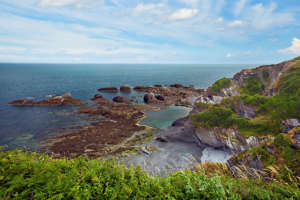 © Dark_Eni/iStock / Getty Images Plus In the early 1800s, Welsh miners dug a series of dim cliff tunnels in Devon to enable Victorian holidaymakers to access its tidal pool and beach. The pool's walls were made using boulders and lime mortar. Today, the pebble beach is a breathtaking spot with a spectacular view of the sunset, combined with a serene and friendly atmosphere.
Kitsilano Pool, Canada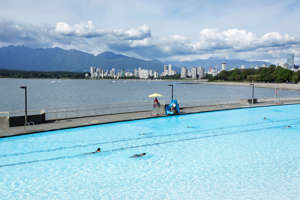 © temmuz can arsiray/Getty Images The only saltwater pool in Vancouver is accessible to the public from May to mid-September. It is divided into three sections – for kids and families, for lane swimmers and for adults who want to relax in the water. The water is pumped into the 449.5 feet (137 meters) long pool from the Pacific.
Plage de Bon Secours, France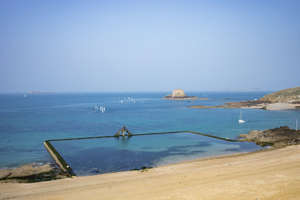 © Emeric Fohlen/NurPhoto via Getty Images The tidal pool, located west of St-Malo's walls, offers calm swimming conditions and is a popular site since the 1930s. Its water is refreshed twice a day by the tide and a high board has been include by its designer René Lesaunier for diving. It is accessible to the visitors 24 hours a day.
Copenhagen Harbor Baths, Denmark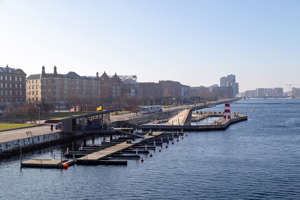 © olli0815/Getty Images Built upon floating lagoons in the capital city, Harbor Baths comprise several pools and three jumping platforms. They were constructed using renewable indigenous wood from Scandinavian forests and the water quality is checked on a daily basis.