Apple's new iPhones in 2019 reportedly won't include a type of charger that's become standard on Android phones

Business Insider
11/02/2019
The iPhones that Apple is likely announcing in 2019 will supposedly come with the same old charging bricks that are considered slow by today's standards, according to the latest rumor.
Apple has missed two opportunities with its latest two generations of iPhones to include a fast-charging brick.
It looks like Apple won't be switching over to the universal USB-C port for its 2019 iPhones, either, and it'll stick with its proprietary Lightning port and cables.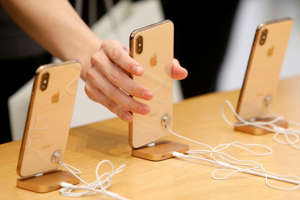 © Thomson Reuters People look at iPhones at the World Trade Center Apple Store during a Black Friday sales event in Manhattan, New York City, U.S., November 23, 2018. REUTERS/Andrew Kelly The iPhones that Apple will release in 2019 will come with the same old 5W charging brick that Apple has included with its iPhones for years, according to Japanese Apple blog, MacOtakara.
That means the 2019 Apple iPhones won't come with fast-charging bricks, which have essentially become standard on several Android devices from several Android phone makers. These days, Apple's 5W iPhone charging brick looks slow and outdated compared to the competition.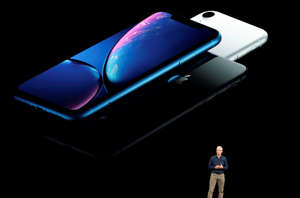 © ASSOCIATED PRESS Apple CEO Tim Cook discusses the new iPhones at the Steve Jobs Theater during an event to announce new products Wednesday, Sept. 12, 2018, in Cupertino, Calif. (AP Photo/Marcio Jose Sanchez) If the details in MacOtakara's report are accurate, it means that 2019 iPhone users will need to buy fast-charging bricks as separate accessories if they want to take advantage of faster charging speeds. Anyone who has already bought fast-charging bricks for their iPhone 8 or newer iPhones will likely still be able to use them for Apple's 2019 crop of iPhones.
MacOtakara's report also claims that Apple's 2019 iPhones will still come a regular USB-A-to-Lightning cable, which suggests two things:
1. Apple may not be replacing its proprietary Lightning port and cable with USB-C for charging iPhones in 2019 after all. Recent rumors have suggested that Apple's 2019 iPhones will switch over from Lightning to USB-C ports.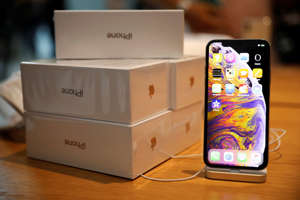 © Thomson Reuters Boxes of iPhones purchased by customers are pictured next to an iPhone XS on display at the Apple Store in Singapore September 21, 2018. REUTERS/Edgar Su 2. You still won't be able to connect Apple's iPhones directly to any recent Mac laptop for charging or transferring data, as the included charging cable still uses the regular USB-A port while Apple's recent laptops only come with USB-C ports. You'll still need an adapter to connect Apple's iPhones to Apple's recent laptops.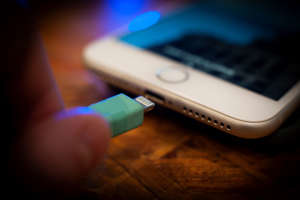 © Jaap Arriens/NurPhoto An Lightning calbe for powering Apple iPhones and iPads is seen in this photo illustration on September 18, 2018. (Photo by Jaap Arriens/NurPhoto via Getty Images) It's still early days for 2019 iPhone rumors, and a lot can change between now and September, when Apple typically announces new iPhones.
Gallery: Everything You Need To Create The Perfect Home Office [Esquire]