AR easyJet app lets your check if your hand luggage is the right size

Evening Standard
07/02/2019
Augmented reality (AR) can do many things: allow you to measure your dog, play games, and check if a piece of furniture fits in your home.
Now the airline easyJet is taking advantages of the benefits of AR by using the technology to allow passengers to check if their hand luggage will fit inside the cabin before they leave home.
The new AR feature in the easyJet app provides an on-screen 3D box, which when combined with the phone's camera, sizes the cabin bag and indicates whether it will fit with the airline's proposed proportions.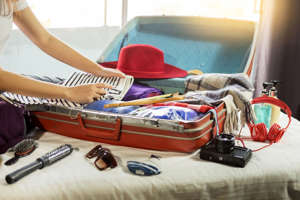 The feature uses Apple's ARKit2 technology and as a result, only works with iPhone models from the iPhone 6S and onwards. Travelport developed the feature for easyJet and said it was thrilled to support easyJet push the barrier of travel innovation. 
EasyJet says the feature will allow customers to check their luggage and let them know whether they can travel with their bag in the cabin. This should save money too, as passengers won't have to face additional charges at the gate as they will already know if it is suitable and make changes accordingly.
Speaking about the announcement, Daniel Young, head of digital experience at the airline, said: "We are constantly on the search for ways to improve the travel experience we offer our customers when flying with us and this new technology is a perfect example of that.
© Provided by Independent Digital News & Media Limited How easyJet's AR measuring feature looks (easyJet)
"We continue to place innovation at the heart of our industry-leading mobile travel app to give our customers the tools they need to take stress away from the airport experience. Embracing this latest technology makes preparing for travel easy and fun," he added.
This isn't the only app that offers this service. The travel app Kayak also offers AR baggage measurements. It allows travellers to check if their bag will fit in the overhead bins for any airline found on Kayak, including Norwegian Air, British Airways and Ryanair.
Kayak's app is particularly handy if you're travelling on different airlines on the same trip and you want to make sure if your bag is the right size for each airline's baggage policy.
By the time you reach the airport, you are allowed to feel suitably smug that your bag fits in the cabin just fine. Just make sure you don't post a picture of your boarding pass whilst you're waiting to board the plane…
Gallery: 2009 vs 2019: How tech has changed over the past decade [PocketLint]