Eight Great Wireless Bluetooth Headphones

Bloomberg
10/02/2017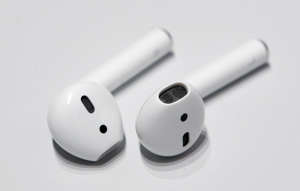 © Reuters Apple AirPods during a media event in San Francisco Still connecting headphones to your phone with wires? Go get a late pass—wires are as 2016 as Harambe.

A bevy of Bluetooth headsets out there take advantage of that low-power wireless standard named after a 10th century Scandinavian king. With a range of up to 30 feet, Bluetooth headsets can be untethered from your device, making life simpler when you exercise, travel, or simply sling a bag over your shoulder. The variety of models includes units that reduce noise around you, remain impervious to moisture, work seamlessly with your phone's virtual assistant, or just provide immersive audio while you, say, fold laundry next to a sleeping baby.
Like all our new wireless playthings, these devices require charging (and recharging), so it's good to keep an old-fashioned pair of wired headphones in your bag. But when the batteries are full and the Bluetooth is flowing, enjoy the modern freedom of being unbound from that hunk of plastic in your pocket.
Best if the future is now
Apple AirPods
£159; apple.com
There's tons of tiny tech in these things. Sensors can tell when they're in or out of your ears, causing music to play or pause, and accelerometers activate the microphones if they sense that you're talking.
Best for a budget
© Jabra Jabra Move wireless
£80; jabra.com
Worried about the expense of cutting the cord? These provide the same sound quality as others costing two or three times as much, which should sound pretty good to you.
Best if you're not just working a 9-to-5
© Bang & Olufsen Bang & Olufsen Beoplay H8
£400; beoplay.com
Each of the H8's earphones functions as a touch panel—taps, swipes, and circular motions control a host of features—so say goodbye to blindly feeling your way around a tiny set of buttons dangling at your neck.
Best when you're on the go
© Beats by Dr. Dre Beats Solo3 wireless headphones
£250; apple.com
You're paying for class-leading power efficiency: The Solo 3s can be used for 40 hours after a 2-hour charge, or 3 hours after being plugged in for just 5 minutes. 
Best when you want to be alone
© Bose Corporation Bose Quiet Comfort Q35 Bose QuietComfort 35 wireless headphones
£330; bose.com
If you work in a noisy office—like, oh, say, at a business magazine—you know what a lifesaver Bose's famous noise-canceling technology can be. Now you can roam from workstation to workstation listening to whatever.
Best when you smell like more than teen spirit
© Jaybird Jaybird X3 wireless Bluetooth headphones
£99; jaybirdsport.com
The rubberized earpieces wedge comfortably in the outer ear, keeping these securely in place no matter how hard you hit the gym. An eight-hour battery life ensures you'll have tunes even during two-a-days.
Best splurge
© Sennheiser Sennheiser HD1
£400; sennheiser.com
Active noise cancellation. A 22-hour battery life. Soft-cushioned leather ear pads. A foldable design for portability. This pair will be your greatest love of all.
Best of all worlds
© Bowers & Wilkins Bowers & Wilkins P5 wireless headphones
£230; bowers-wilkins.com
These occupy a sweet spot between itty-bitty earbuds and hardcore ear cans. The 17-hour battery life can't beat Beats, but the sound quality is tough to top—B&W is renowned for engineering some serious loudspeakers.
To contact the author of this story: Sam Grobart in New York at sgrobart@bloomberg.net.
To contact the editor responsible for this story: Jillian Goodman at jgoodman74@bloomberg.net.
©2017 Bloomberg L.P.