Facebook FINALLY begins rolling out its long-awaited Unsend feature for Messenger (months after Mark Zuckerberg got it)

Daily Mail
15/11/2018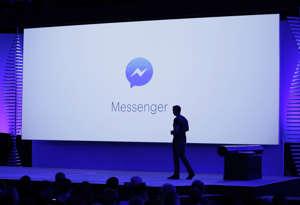 Facebook's Unsend feature has finally landed on the Messenger app - for some users. 
The social network giant has started rolling out an 'Unsend' feature for Messenger that lets users delete messages up to 10 minutes after they're sent. 
For now, the feature is limited to iOS and Android users in Poland, Bolivia, Colombia and Lithuania, but it's expected to launch in other markets soon, according to TechCrunch.
The launch comes seven months after it was reported that Facebook was deleting messages already sent by CEO Mark Zuckerberg to other users. 
Download the Microsoft News app for your Android or iPhone device and get news & live updates on the go.
By setting the unsend cutoff at 10 minutes, it means you can't delete messages that were sent long ago in a conversation. 
But it does let you erase any messages that may have typos, were sent to the wrong person or that you may regret after-the-fact.
When a message is deleted, it'll show a marker in the chat telling other users that it's been removed. 

It also isn't limited to texts - users can also remove photos, videos, links and other kinds of content. 
To use the feature, tap and hold on a message you sent, then select 'Remove.'
From there, users will have the option to 'Remove for You' or 'Remove for Everyone.' Doing the former will only remove it from your view, while selecting the latter will delete the message from the chat entirely. 
After selecting 'Remove for Everyone,' users will get a warning that says: 'You'll permanently remove this message for all chat members. They can see that you removed a message and still report it.'
A 'tombstone,' or a line of text confirming the message was deleted, will then appear in the chat. 
Interestingly, Facebook has also included some extra protections in the feature to prevent it from being abused by cyberbullies. 
Even if a message is deleted, Facebook will keep unsent messages for a short period of time to prevent cyberbullies from trying to cover their tracks. 
Facebook says they decided to roll out an Unsend feature because it felt there were a lot of cases where users might need one. 
'The pros are that users want to be in control...and if you make a mistake you can correct it,' Stan Chudnovsky, Facebook's head of Messenger, told TechCrunch.
© Provided by Associated Newspapers Limited Users will see a warning in Messenger when they try to remove a message from the chat 'There are a lot of legitimate use cases out there that we wanted to enable.'

The firm isn't the first to introduce an Unsend tool - Facebook-owned WhatsApp has long had this capability, along with with Instagram and Google's Gmail.  
Facebook is also exploring more editing features beyond the Unsend tool in Messenger. 
The firm is considering adding a feature that would let users set an expiration date for unencrypted messages or conversation threads.  
'It's one of those things that feels very simple on the surface,' Chudnovsky told TechCrunch. 
'And it would be very easy if the servers were built one way or another from the very beginning. 
'But it's one of those things philosophically and technologically that once you get to the scale of 1.3 billion people using it, changing from one model to another is way more complicated,' he added. 
Other apps like WhatsApp, Signal and Discord already use end-to-end encrypted messaging. 
Facebook began feeling the pressure to release an Unsend feature after its CEO got caught deleting messages. 
Three sources claimed old Facebook messages from Zuckerberg had disappeared from their inbox. 
The recipients were not notified - raising concerns about what the Facebook CEO could be hiding.
Facebook claims the change was made after the 2014 Sony Pictures hack, when a mass data breach at the movie studio resulted in embarrassing email histories being leaked. 
However, the lack of disclosure angered some users, along with the absence of a similar tool to recall messages for normal users.
The fact the the company is prepared to make exceptions makes a mockery of its statement that it wants to 'make the world more open and transparent', experts said at the time.         
Related: How has Facebook changed our lives? (StarsInsider)