Mark Zuckerberg's control of Facebook is like a dictatorship: CalSTRS

CNBC
11/05/2018
© Provided by CNBC Facebook CEO Mark Zuckerberg The capital markets are a democracy, but that's not how FacebookFB is being run, said Christopher Ailman, the chief investment officer of the California State Teachers' Retirement System, known as CalSTRS.

"There is something wrong," he said Thursday on CNBC's "Closing Bell."
"When Facebook changed its structure to take public money in, they should have changed their structure to a more open board structure, and we think that there's a problem with having one person in charge of the company," he added.
CEO Mark Zuckerberg owns a majority of the voting rights to the company.
That's because the tech giant has dual-class shares. Facebook's Class B shares are controlled by Zuckerberg and a small group of insiders and have 10 votes per share. Class A shares only have one vote per share. The end result is that Zuckerberg and those insiders control almost 70 percent of the voting shares in Facebook.
CalSTRS took on the issue in a recent op-ed in the Financial Times. CalSTRS portfolio manager Aeisha Mastagni wrote, "Why does Mr. Zuckerberg need the entrenchment factor of a dual-class structure? Is it because he does not want governance to evolve with the rest of his company? If so, this American dream is now akin to a dictatorship."
A Facebook spokesperson told CNBC, "Our board of directors believes that our capital structure contributes to our stability and insulates our board of directors and management from short-term pressures, which allows them to focus on our mission and long-term success."
CalSTRS, which manages $224.4 billion in assets, owns $650.4 million in Facebook shares as of year-end 2017.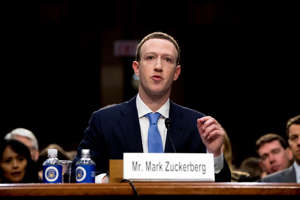 © press association CEO Mark Zuckerberg owns a majority of the voting rights to tCalSTRS. Ailman told CNBC, "If you want to use other people's money they need to have a chance to have some say in how the business is run by electing a board of directors, holding management accountable."

"One individual person can't make all the right decisions. And we've seen some cracks in Facebook's management, especially this year," he added.
The most notable "crack" was the data scandal involving Cambridge Analytica, which is accused of improperly gaining access to 50 million Facebook profiles before the 2016 election. Cambridge Analytica has called the allegations "false."
That "lack of poor oversight and management" on the part of Facebook is the reason Ailman deleted his Facebook account in April, he said.
He told CNBC that he has not signed back up. "I do not plan on joining Facebook for a long time."
That said, CalSTRS has no plan to dump its Facebook shares.
"We're in this for the long haul," he said. Instead, they want to start a conversation.
"Something like dual-class shares is something we want to stop dead in its tracks now and try to get Silicon Valley to wake up and see more democracy in their companies and more of an accountability in management," Ailman said.
— CNBC's Fred Imbert contributed to this report.