Microsoft to supply US soldiers with HoloLens headsets on the battlefield

The Telegraph
29/11/2018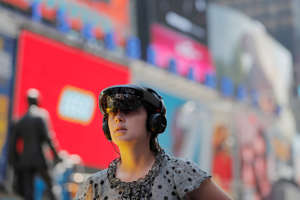 © Thomson Reuters Participant uses a Microsoft HoloLens to look at artist Mel Chin's mixed reality climate change themed art installation, Unmoored, in the Times Square neighborhood of New York U.S., July 11, 2018. REUTERS/Lucas Jackson Microsoft has been awarded a $480m (£374m) deal to equip American soldiers with futuristic holographic headsets to detect enemies while on the battlefield. 
The contract will help the army "increase lethality by enhancing the ability to detect, decide and engage before the enemy," the US Department for Defense said.
A Microsoft spokesman said: "Augmented reality technology will provide troops with more and better information to make decisions. This new work extends our longstanding, trusted relationship with the DoD to this new area."
Download the Microsoft News app for your Android or iPhone device and get news & live updates on the go.
The technology giant will provide up to 120,000 versions of its HoloLens device to the military. The HoloLens, which is worn around the head and over the eyes, projects virtual images onto the real world. The wearer can interact with the graphics using hand gestures like a pinch or pointing an index finger.
HoloLens was first announced in January 2015 and is not yet available for the general public, however it can be bought for £2,715 for commercial use. It has already been adopted by Nasa's Jet Propulsion Laboratory to project holograms of Mars Rover images so give scientists can explore the red planet.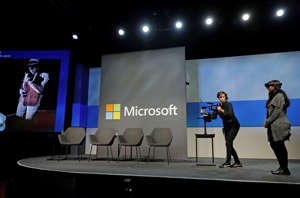 Ford and Volvo use it for designing cars and Lowe's, a hardware shop in the US uses HoloLens to help customers try out different paint colours on virtual walls. The US and Israeli army have begun testing it for training recruits. 
The military requested that thermal sensing, night vision and the ability to check vital signs like breathing should be included in the winning piece of tech, according to earlier tender documents seen by Bloomberg. The winning bidder would be expected to deliver 2,500 headsets within two years. 
It has been sounding out several technology companies outside the traditional defence industry in order to open up competition. Florida-based Magic Leap and London's Improbable were understood to be contenders.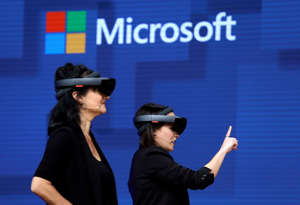 The technology industry's readiness to commit to military work has become a bone of contention in recent years, sparking an internal rift among Silicon Valley workers. Microsoft employees earlier this year penned an open letter to detract it from bidding for Project Jedi, a cloud computing contract to help provide battlefield technology to the military. Microsoft already counts the US government as a cloud customer, similarly to Amazon Web Services.
Google was last year forced to pull out of Project Maven, a contract to provide drone footage analysis to the military, after employees revolted.
Gallery: 35 Basic Facts About the Internet Everyone Should Know [Best Life]