'Rage 2' Review Roundup: See What Critics Are Saying

International Business Times
6 days ago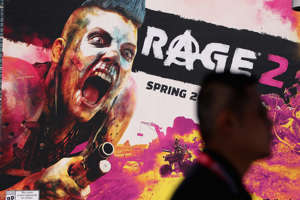 © Getty LOS ANGELES, CA - JUNE 12: A man walks past a poster for 'Rage 2' during the Electronic Entertainment Expo E3 at the Los Angeles Convention Center on June 12, 2018 in Los Angeles, California. (Photo by Christian Petersen/Getty Images) Bethesda Softworks, Avalanche Studios and id Software's "Rage 2" has just been released, and the reviews are in. The new game features an open-world experience in a post-apocalyptic setting with an insane twist. Here's what we know about "Rage 2" and what reviewers thought of the game.
Bethesda Softworks has definitely left a bad impression on their fans with "Fallout 76." However, "Rage 2" seems to have alleviated at least some of the previous game's damage as it seemed to have sat well with some reviewers while falling flat for others. Currently, its Metacritic score for the PC and PS4 version is 73.
According to Gamesradar, "Rage 2" offers a great experience as an action first-person shooter game. However, the game slowly loses its charm as foes are always at the mercy of your first few weapons.
Additionally, the site claims the game has a poor delivery of an open-world experience as players can easily access knowledge of a new ability's location while having a map that barely tells landmarks.
Meanwhile, Polygon noted that "Rage 2" takes a violent and disturbing aesthetic of fighting mutants, which look like people with birth defects. The reviewer found the style choice distasteful and found something unnerving even when they started enjoying the game.
However, IGN and Gameinformer have good things to say about this new Bethesda game. IGN rated the new Rage game an 8 out of 10, while Gameinformer gave it a 7/10. 
I
© id Software/Avalanche Studios/Bethesda Softworks/Rage 2/Twitter Rage 2 Hype Train Twitter GN noted that while its developers don't know how to design an open-world game well, people still love the game for its rapid pace during fights.  Even with repetitive missions, the game manages to be fun as it introduces new weapons, upgrades and abilities to enjoy.
Meanwhile, Gameinformer called the game a "muted, cliché, and uninspiring experience" overall but also pointed out its good shooting and battle gameplay.
After "Rage 2," fans of the post-apocalyptic genre can expect another one to come out later this year with "Borderlands 3." The next "Borderlands" entry will be available this coming September.
This game could be a viable choice for fans who want more post-apocalyptic adventures or if this game disappoints them.
MSN UK are Empowering Happiness for mental health awareness month. Find out more about our campaign and the charities working to stop people falling into crisis here.
Gallery: Surprisingly valuable video games you might have at home (love money)