The 25 Best Inventions of 2017

Time
16/11/2017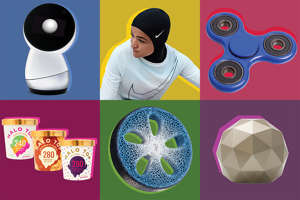 To determine TIME's annual unranked list, we consider hundreds of inventions from around the world. In the past, we've featured everything from the floating lightbulb to the desktop DNA lab. Here, the 25 inventions that made this year's cut.
All prices, where available, are given in dollars
A Robot You Can Relate To
Jibo / $899 (£672)
Personal robots, such as Amazon Echo and Google Home, have come a long way in recent years. But fundamentally, they're still stationary speakers whose defining expression is a light that turns on when you speak.
© Photograph by Sebastian Mader for TIME Jibo is different. It's not just that he—and I use the term he here, because that's how Jibo refers to himself—looks like something straight out of a Pixar movie, with a big, round head and a face that uses animated icons to convey emotion.
It's not just that his body swivels and swerves while he speaks, as if he's talking with his nonexistent hands. It's not just that he can giggle and dance and turn to face you, wherever you are, as soon as you say, "Hey, Jibo." It's that, because of all this, Jibo seems downright human in a way that his predecessors do not.
And while that technology may seem merely amusing—or creepy, depending on your point of view—it could fundamentally reshape how we interact with machines.
Jibo still has a lot to learn. Although he can help users in basic ways, like by summarizing news stories and taking photos, he can't yet play music requests or work with third-party apps like Domino's and Uber, which, at $899, could make him a tough sell.
But Matt Revis, the company's vice president of product management, is confident Jibo will evolve. "There was a threshold we had to reach in order to launch," says Revis. "Now it's part of the journey." —Lisa Eadicicco
Glasses That Give Sight to the Blind
eSight 3
For the millions of people who are legally blind, navigation is a routine challenge. Though support canes and guide dogs can help, they cannot mimic actual vision. eSight 3 can. Think of it as the world's most powerful pair of glasses: once users put on eSight, it records high­ definition video and uses magnification, contrast and proprietary algorithms to enhance that imagery into something the legally blind can see—enabling them to partake in a variety of activities, including sports, that would otherwise be off-­limits. At $9,995 (£7,470), the device, which launched in February, is not accessible to everyone (though the company does help connect would-­be buyers with funding sources, including grants). But it is cheaper than the company's earlier iterations, as well as faster, lighter and equipped with better zoom capabilities. To date, the company estimates it has been used by more than 1,000 patients. —Alexandra Sifferlin
Guilt-Free Ice Cream
Halo Top / $5.99+ (£4.50+)
It sounds almost too good to be true: a flavor-packed, low-sugar ice cream with no more than 360 calories— per pint. But such is the promise of Halo Top, whose containers invite patrons to "go ahead, eat the whole pint" in one sitting and whose product the company's CEO, Justin Woolverton, routinely calls "healthy." On the latter point, there has been some debate.
Halo Top, which is also enriched with protein, maintains its low calorie count using the zero-calorie sweetener Stevia, along with cane sugar and sugar alcohol. While those ingredients are fine to consume, they're not exactly paragons of nutrition. Then again, Halo Top's goal isn't to replace fruits and veggies; it's to give diet-conscious consumers "an option to eat ice cream again," says Woolverton.
To that end, Halo Top (which retails for about $5 per pint) is succeeding in spades. Its annual sales soared roughly 2,500% last year, and it recently beat out Ha?agen-Dazs and Ben & Jerry's to become the best-selling pint in America. —Mahita Gajanan
Makeup Shades for Every Skin Tone
Fenty Beauty / $34 (£25.40)
"Makeup is like a secret weapon," says pop superstar Rihanna. "It can go from very subtle to a complete transformation."But for many, that secret weapon is too secret: makeup companies often cater to women with light to medium skin tones, both in products and advertising, and sideline women of colour.
Not so with Rihanna's line, Fenty Beauty, which launched in September with 40 shades of foundation and a diverse array of makeup models. "It was important that every woman felt included," she says, noting that she had "100% involvement" in the development process (alongside parent company Kendo).
Almost immediately, the deeper tones started selling out at Sephora; shortly thereafter, brands such as Make Up For Ever and L'Ore?al launched campaigns targeting women of color. Now Rihanna is focused on launching new Fenty Beauty collections and taking her brand to the next level. "I love challenges," she says. "So I'm going to continue to have fun and push the boundaries in this industry." —Cady Lang
Mugs That Heat Your Coffee Just Right
Ember Mug / $79.95 (£60)
Anyone who's ever sipped coffee knows how temperature can affect taste: if it's too hot, it'll scald your mouth; too cold and it's barely worth drinking. By one estimate, you have only about 37 seconds to enjoy the brew at an ideal level of warmth. "That didn't make any logical sense to me," says Clay Alexander, CEO and founder of Los Angeles–based Ember Technologies.
So he invented a solution: the stainless-steel Ember mug. Reinforced in white ceramic coating, it keeps coffee or tea at a precise temperature—anywhere from 120°F to 145°F, set through an app—for about an hour on its own and for an unlimited amount of time on its charging saucer.
It's the second in Ember's series of smart drinking devices, following a temperature-control tumbler last year. And it may be poised to become a desktop staple: the mug launched on Nov. 9 and is already being sold in 4,600 U.S. Starbucks stores. —Melissa Chan
Elevators That Move Beyond Up and Down
Thyssenkrupp MULTI
What if elevators could move sideways, instead of just up and down? It's a question straight out of Charlie and the Chocolate Factory, and Germany-based Thyssenkrupp has a real-life answer: MULTI, a system of elevators that ditches old-school pulleys for the same magnetic levitation tech that enables high-speed trains.
The elevator cars can travel in multiple directions and even pass each other within a shaft—features that could not only reduce wait times, but also fundamentally"change how buildings are constructed,"says Andreas Schierenbeck,CEO of Thyssenkrupp Elevator. (Think horizontal offshoots of straight, vertical towers.) Following a successful test this year, the first MULTI is set to debut in Berlin by 2021. —Julia Zorthian
A Smarter Smartphone
Apple iPhone X / $999/£999
To Dan Riccio, Apple's senior vice president of hardware engineering, the iPhone X is quite literally a dream come true. "I look at the design as something we really wanted to do since day one,"he says.
It's easy to see why: the X is arguably the world's most sophisticated smartphone, with a screen that stretches from edge to edge, a processor optimized for augmented reality and a camera smart enough to allow users to unlock the phone with their face. (Though some of these features first arrived on devices from Samsung and LG.)
But in order to make it all possible, Apple had to kill the home button, a popular all-purpose navigation tool. Much like the company's move to nix the 3.5-mm headphone jack on the iPhone 7, this decision was driven by "looking to the future," says Jonathan Ive, Apple's chief design officer. "I actually think the path of holding onto features that have been effective, whatever the cost, is a path that leads to failure."
At $999, the X is also the most expensive iPhone yet. "As you would expect," Ive says, "there's a financial consequence to integrating the sheer amount of processing power into such a small device."
It's easy to imagine a future iteration with a screen that wraps around the entire device, or a camera that can detect gestures. But for now, Ive and Riccio won't divulge specific plans. "We have a clear vision" for the next generation of iPhones, says Ive. The X is "in some sense a completion of a chapter." —Lisa Eadicicco
A Hijab That Empowers Muslim Athletes
Nike Pro Hijab / $35 (£26)
It's tough to play sports in a hijab. If the material is too heavy, it causes excess sweating. If it's too light, it might fall off during competition. And if it's fastened in the wrong way," you can feel like you're going to choke," says Manal Rostom, an Egyptian runner based in the United Arab Emirates and the founder of the"Surviving Hijab" Facebook group, which has nearly half a million members. Nike's Pro Hijab—which was put into development after executives met with UAE weight lifter Amna Al Haddad in 2016—aims to shift that status quo.
Unlike a traditional hijab, the Pro is made with light, breathable fabric that wicks moisture; athletes who have used it report that it helps manage sweat. But for women like Rostom, who was one of the Pro's early testers, there's symbolic weight to Nike's investment, as well. "I'm athletic, I'm outspoken, I'm empowered by a big company,"she says."I'm representing what a Muslim woman can be." —Sean Gregory
Clinics That Redefine Preventive Care
Forward
In the U.S., patients tend to visit doctors only after they get sick. But what if both parties worked together to pre-empt medical issues as well? That's the idea behind Forward, a new type of wellness clinic that works much like a high-end gym. For $149 (£112) a month, users get unlimited access to genetic screenings, blood testing, weight-loss planning, routine doctors' visits and more all of which help Forward" look toward your future and look out for things that are longer term," says Adrian Aoun, the founder and CEO, and a former Google executive. (Forward does offer reactive medicine too, including unlimited generic medications without co-pays.)
Critics argue most Americans can't afford the clinics, especially since they do not accept health insurance. But as a niche experiment, Forward appears to be working: the company, which is based in San Francisco, has reportedly raised $100 million in funding and recently opened a location in L.A.; it plans to expand to other cities in the future. —Alexandra Sifferlin
A Shoe Engineered to Boost Performance
Adidas Futurecraft 4D
Imagine a shoe that lets you run faster, pivot better and jump higher. That's the idea behind the Futurecraft 4D, a new sneaker from Adidas whose midsole can be expertly tailored to the needs of its wearers—not only in size and shape, but also in flexibility, impact type, cushioning and more. The key is the 3-D printing process, which enables Adidas to"look at every single square millimeter of a midsole and tune it from a performance standpoint," says Al VanNoy, who headed the project.
It would take weeks to make those modifications using traditional shoemaking methods. But the Futurecraft 4D midsoles can be printed in as little as two hours, meaning Adidas could even produce them in stores. At least that's a possibility for the future. For now, Adidas is rolling out a standardized version (based on 17 years' worth of data from runners) beginning in mid-December. —Julia Zorthian
Cars That Could Make Electric Mainstream
Tesla Model 3
Electric cars typically have one of two problems: they're either too expensive, or they have a too-limited range. Tesla's Model 3 aims to render both issues moot: it's the buzziest in a series of $35,000/£26,000-and-up electric cars offering more than 200 miles of driving distance on a single charge (alongside the Chevrolet Bolt). Consumers are certainly intrigued: demand for the Model 3 is so high—as many as 1,800 orders each day, per company estimates—that Tesla is struggling to keep up. "We are deep in production hell," Elon Musk, the company's co-founder and CEO, tweeted in October.
But Tesla remains confident it will catch up—which is good for its shareholders, and also the environment. Vehicles like the Model 3, which runs on batteries rather than gasoline, are likely to play a major role in combating climate change. —Alex Fitzpatrick
A Portable, Wearable Breast Pump
Willow Pump
Breastfeeding is easier said than done, especially for moms on the go. Most electric breast pumps use air-horn-shaped collection bottles, which are tethered to loud, whirring machines. Mountain View, Calif.–based Willow is working to change that. Its battery-powered alternative is quiet and small enough so that women can slip it into their bra and pump wherever they want. (Each is lined with a freezer-safe bag.)"Instead of scheduling life around the pump, you can play with an older child or take a conference call," says Naomi Kelman, the company's president and CEO.
That convenience comes at a cost: $480 (£359) plus 50¢ (40p) per 4-oz. bag, which is considerably pricier than traditional models. Kelman says the company is making design tweaks based on feedback from moms who are testing a beta version now. If Willow delivers on its promises when it launches next year, it could revolutionize an industry in desperate need of disruption. —Emily Barone
A Simpler Home Security System
Nest Secure / $499 (£373)
Most home security systems are created to keep intruders out. Nest, a subsidiary of Google parent Alphabet, built its Secure system"the complete other way around,"says chief product officer Matt Rogers, choosing to focus just as much on making it simpler for its users to get in. Case in point: the Secure hub can be disarmed by waving a key fob instead of typing a pass code, and those key fobs can be programmed to work within certain time frames—so a babysitter, for example, could access your home only while she's working.
A smartphone app also lets users manage their system from afar. (Similar tech exists from Abode and SimpliSafe, among others.) Of course, the Secure is plenty capable of guarding a home: if an intruder tries to break or unplug the hub, it will sound an 85-decibel alarm, and companion motion sensors can alert users when a door or window has been opened. —Lisa Eadicicco
© Nest

A Craft That Will Probe Beyond the Surface of Mars
NASA Mars Insight
The train to Mars pulls out only once every two years. That's how often Earth and its neighbor move into alignment for the quickest possible journey from one planet to the other. NASA plans to make good use of the 2018 window, with the planned launch in May of the Mars InSight lander, which, as its name suggests, will give scientists their best look ever at the interior of the Red Planet. (The InSight was initially slated to launch in '16, but glitches in its seismograph system led to delays.) Unlike Curiosity and other Mars rovers, this craft will stay in one place. But with good reason: it will hammer a probe more than 16 ft. into the Martian surface to study the planet's thermal history—in effect, taking its geological temperature.
Meanwhile, the seismometers will study Mars' composition, an X-ray radio link will analyze wobble (the way Mars spins on its axis and is gravitationally tugged by other bodies in the solar system), and cameras will return panoramic and 3-D pictures. The space- craft should operate for 728 Earth days (708 Martian sols)—or until just about the time the 2020 flight is ready to go. —Jeffrey Kluger
A VR Headset That Stands Alone
Oculus Go
For all its futuristic hype, virtual reality is a fairly clunky technology: even the best headsets require extra gadgets, such as smartphones or laptops, to work. Not so with Facebook's Oculus Go, a $199 (£149) wearable computer that operates entirely on its own. (HTC and Lenovo are working on similar devices.) Its tracking capabilities aren't as advanced as those found in its pricier counterparts—a function of having less physical space for computing power."
There are always trade-offs" when making something light enough to strap to your head, says Max Cohen, head of mobile product at Oculus. But Facebook's goal with Oculus Go, which will launch next year, isn't to create the most realistic VR experience; it's to create the most accessible one. "[We want to] make it easy for people to say, Oh I don't have to make sacrifices to get into VR," says Cohen. —Lisa Eadicicco
The DIY Cooking Companion
Tasty One Top / $149 (£111)
With more than 100 million followers across Instagram and Facebook, BuzzFeed's Tasty— which distills complex recipes into bite-size video tutorials—may well be the Internet's most popular cooking channel. But there's "a gap between being excited about seeing something on Facebook and actually doing it," says Ben Kaufman, head of BuzzFeed's Product Labs. So he and his team set out to close it. The result: Tasty One Top, an induction cooktop that syncs with the Tasty smartphone app to guide would-be chefs through different recipes.
A built-in sensor and companion thermometer track temperature, so the app can tell users when to flip a steak, for example, to make sure it's medium rare. Other companies, such as FirstBuild, Hestan and Pantelligent, have launched similar products in recent years. Tasty's advantage is its already robust arsenal of recipes, spanning everything from cheeseburger onion rings to ice cream churro bowls. Both those recipes require deep frying, which "freaks a lot of people out," says Kaufman. But having an appliance that makes it "easy and predictable,"he adds, should empower them to try. —Lisa Eadicicco
Drones That Put Selfie Sticks to Shame
DJI Spark / $499 (£373)
Airborne drones have exploded in popularity over the past few years, improving everything from mapmaking to search-and-rescue operations. The DJI Spark has a more down-to-earth goal: helping anyone take better photos, videos and "dronies,"a.k.a. drone selfies.
To that end, it's easier to operate( gesture recognition means you can control it with a wave of your hand), harder to crash (an array of sensors help prevent midair collisions) and relatively cheap ($499)—though its maximum flight time of 16 minutes is shorter than higher-end models. "We see Spark as the starting point of a whole new series of drones," says Paul Pan, DJI senior product manager. So far, that strategy is working: thanks in part to the Spark, which launched in June, China-based DJI sells half of all drones bought in the U.S. —Alex Fitzpatrick
An Air Filter That Zaps Away Pollutants
Molekule / $799+ (£597+)
Most air filters improve air quality by trapping harmful pollutants in a filter. Molekule takes that idea one step further—by destroying them altogether. The key is its specially coated nanofilter, which is designed to react with light in a way that prevents toxins, including mold and bacteria particles, from growing back. It's similar to "the way light shines on a solar cell and generates electricity," says Jaya Rao, who co-founded the company alongside her brother, CEO Dilip Goswami, and father, Dr. Yogi Goswami, who heads the Clean Energy Research Center at the University of South Florida. Although the price—nearly $800 (£600), plus $99 (£74) per year for new filters—has raised some eyebrows, proponents argue that the improved air quality is worth it. Investors are making the same bet: Molekule has raised almost $15 million to date. —Lisa Eadicicco
Über-Adaptable Airless Tires
Michelin Vision Concept
In the future, our cars will be smart, and our tires will be smarter. Or so suggests Michelin. Its Vision concept—unveiled this year to demonstrate the potential of tire technology—certainly makes a compelling case. For starters, it's airless, eliminating the need to worry about pounds per square inch. It's also made from recycled materials in an effort to reduce waste. But the most impressive fea­ture may be its 3­D-­printed treads, which can be swapped in and out to accommodate various road conditions—without changing the tire itself. The challenge will be fig­uring out a way to do it quickly, says Terry Gettys, who helped lead the project, "because consumers are going to want their tires [ready to go] in just a few minutes." Michelin estimates that a tire this advanced may still be as far as 20 years away. But some of its features, like airless designs and sensors that flag driv­ers when treads are wearing down, could become mainstream over the next several years. —Lisa Eadicicco
A Wi-Fi Router That Safeguards Your Smart Home
Norton Core / $279.99 (£208)
There are many benefits to owning gadgets that go online, not least of which is the ability to brew a pot of coffee while you're lying in bed. But in this new reality almost any appliance we own, from toasters to washing machines, can be targeted by hackers. The Norton Core aims to neutralize that threat. Unlike most wi-­fi routers, which merely enable connectivity, the Core is designed to detect abnormalities; if one device is showing signs of a virus, the Core cuts it off it from the rest of your home network, much like a hospital would quarantine a sick patient. It also regularly updates its software to stay on top of new threats and "keep homeowners safe and secure," says Ameer Karim, Symantec's VP of consumer IoT (Internet of Things) security. The fact that it looks like a Star Trek prop? That's just a bonus. —Alex Fitzpatrick
Wristbands That Help Babies Get a Better Start
Bempu
Fat is an extremely useful quality in babies. Without it, they can rapidly lose body heat, become hypothermic and develop breathing and other problems. But in areas with few resources, where the numbers of premature or low­-weight births are highest, most hospitals and clinics can't afford incubators to keep babies warm, and most parents don't know their babies are in danger until it's too late. Enter the Bempu, a $28 (£21) light-­up temperature­-monitoring bracelet that fits on a baby's wrist; it sounds an alarm and flashes orange if babies are too cold, so mothers can warm them against their skin or swaddle them. So far, the device has helped an estimated 10,000 newborns, mostly in India but also in 25 other countries. And earlier this year, it won a $2 million grant from Saving Lives at Birth to scale its distribution even wider. "Our goal," says Bempu CEO Ratul Narain, "is to make a solid dent in the neonatal mortality numbers." —Belinda Luscombe
A Gaming Console That Lets You Play Anywhere
Nintendo Switch / $299.99/£279.99
"When you have a great game, that moment of disappointment is when you have to stop playing,"says Reggie Fils-Aime?, president of Nintendo of America. And so, with the Nintendo Switch, you don't have to. In one form, it's a handheld tablet, allowing a single user to game on the go. In another, two controllers slide off from the sides, allowing multiple users to get in on the action. Once they get home, they can slide that tablet into a docking station and continue playing on a legitimate home console. Gamers seem to like the flexibility: Nintendo has sold 7.63 million Switches since its March debut; it's expected to surpass the company's previous console, the Wii U, by the end of its fiscal year. —Lisa Eadicicco
Stronger, Safer Football Helmets
VICIS Zero1
For decades, football players have worn the same kind of head protection: hard, plastic helmets. About four years ago, Sam Browd, a pediatric neurosurgeon, started thinking about how to approach them differently. What if, he wondered, the outer shell were made of a flexible polymer? That way, helmets could work like car bumpers, reducing the force (and the sound) of a collision immediately on impact. He sketched a prototype on a napkin and brought it to contacts at the University of Washington; together they founded a startup, VICIS, to make it a reality. "We wanted to build the safest helmet ever made,"says Dave Marver, the company's CEO. The result, made possible by some $40 million in investments, is the Zero1, which earned top marks in the NFL's annual helmet testing for its ability to reduce the forces that can cause brain injury. It's now being used by players on 18 NFL teams, including Kansas City Chiefs quarterback Alex Smith, and about 20 college teams. Next up: versions for younger athletes. —Jenny Vrentas
Super-Sustainable Crops
GreenWave 3D Ocean Farm
The future of farming is growing oysters, mussels, clams and seaweed on ropes anchored to the ocean floor. So says Bren Smith, a commercial fisherman turned director of GreenWave, a Connecticut nonprofit doing just that. The concept isn't as wild as it may seem. As land farming becomes increasingly problematic—it accounts for a growing portion of the planet's greenhouse­-gas emissions—and oceans get overfished, humans will need to develop alternative food sources. GreenWave's crops offer compelling advantages: they're protein-­rich, self­-sufficient (no fertilizer needed) and they even help combat climate change (by sequestering carbon as they grow). Of course, getting Westerners to center their diet on mollusks and seaweed is a stretch. Still, GreenWave sees potential: the group has helped fishermen establish 14 farms along the coast of New England since 2013, and now has plans to expand in California, the Pacific Northwest and Europe. —Julia Zorthian
The Ultimate Distracters
Fidget Spinners / $5.87+ (£4.40+)
Depending on who you ask, fidget spinners—those weighted prongs that spin, spin, spin, seemingly forever—are either a harmless distraction or wreaking havoc on American classrooms. But in either case, there's no denying their ubiquity. After a similar toy, the fidget cube, debuted last year, manufacturers noticed more online searches with the word "fidget." So they flooded the market with spinners; by spring they were a viral sensation, boosting year-over-year sales at U.S. specialty retailers by as much as $20,000 in April alone, according to The Toy Insider. Toys "R" Us chartered jets to keep spinners on shelves. Amid the craze, some manufacturers made specious claims about their therapeutic benefits, calling spinners "perfect for ADD, ADHD, Anxiety and Autism." (There is no conclusive scientific evidence to that effect.) Sellers would be wise to stick to a more agreeable benefit: "Provides hours of addictive fun." —Sean Gregory