The Original PlayStation Is Back, In Adorably Fun-Sized Form

Esquire (UK)
19/09/2018
Watch: Introducing PlayStation Classic (The Week) 
After announcing that the PlayStation 2 is finally being quietly euthanised, Sony has given die-hard first-generation gamers some consolation with the PlayStation Classic, a miniaturised version of the original 1995 PlayStation.
It's a little over half the size of the original console, and will come with the same controllers - without thumbsticks - and packaging as the original PlayStation did in 1995. It's got two controller ports, and it'll also come pre-loaded with 20 classic PS1 games including Final Fantasy VII, Jumping Flash, R4 Ridge Racer Type 4, Tekken 3 and Wild Arms. They won't be remasters either: they'll be in their original formats. Oh, and don't worry about fishing around for a SCART cable - the Classic has a HDMI port instead.
© Sony Sony's scaled-down version of the original console will come with 20 preloaded games including Final Fantasy VII and Tekken 3 Sony says it will release the names of the other 15 games included with the PlayStation Classic over the next few months. We'd take any of Worms Armageddon, Fifa 99, Hogs of War, Tony Hawk 2 or PaRappa the Rapper.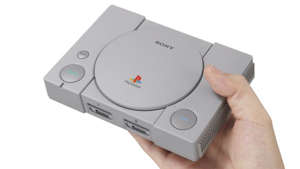 The PlayStation Classic will be out on 3rd December and is billed as retailing for €99, though the sterling price is to be confirmed. (Editor's note: ITV reports the sterling price as being £90)
Download the Microsoft News app for your Android or iPhone device and get news & live updates on the go.
If the success of the NES Classic Edition is anything to go by - Nintendo's throwback console sold 2.3 million units in the six months after its November 2016 launch - this might not be the last miniaturised first-generation console we see. Fingers crossed for a Dreamcast Mini.
NOW SEE: Remember these? The 50 most popular video games of all time (24/7 Wall St)