This Samsung Galaxy S10+ image reveals the phone will retain one key feature

Pocket-lint
11/02/2019
Will the Galaxy S10+ have a headphone jack or not? That is the question. 
With a little over a week until Samsung holds its Galaxy Unpacked event, more information has been leaking out about the soon-to-be-unveiled Galaxy S10+, and sure enough, one of our major questions has been answered with this latest leak from Evan Blass.
So yeah, looks like that's definitely happening... [Thanks, tipster!] pic.twitter.com/CQ0nxrAGh2

— Evan Blass (@evleaks) 11 February 2019
The noted leakster just posted to Twitter what appears to be a promotional image for Samsung's 10th-generation flagship smartphone.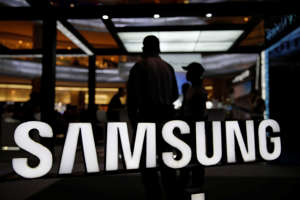 © Thomson Reuters A customer stands near Samsung logo during Galaxy Note 8 consumer launch event in Jakarta, Indonesia September 29, 2017. REUTERS/Beawiharta The image shows the upcoming phone from the bottom up. As a result, it clearly reveals a 3.5mm headphone jack set to the left of the USB-C charging port.
Galaxy smartphone fans can therefore rejoice; they have staved off the death of their corded headphones for one more year.
Samsung is slated to debut the new Galaxy S10 and Galaxy S10+ phones on 20 February at its scheduled Galaxy Unpacked event.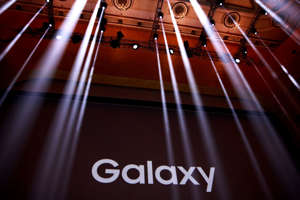 © 2016 Getty Images NEW YORK, NY - AUGUST 2: A Samsung Galaxy logo is displayed on a screen prior to the start of a launch event for the Samsung Galaxy Note 7 at the Hammerstein Ballroom, August 2, 2016 in New York City. The stylus equipped smartphone will be available starting August 19, with preorders starting August 3. (Photo by Drew Angerer/Getty Images) With this being the 10th anniversary of the Galaxy phone, it's expected to see a ton of new features. For more details on what we'll see (such as a three lens rear camera setup) or what it might cost you (a lot), head over to our rumour roundup for the Galaxy S10.
Of course, you'll have to check back for Galaxy Unpacked as well. Pocket-lint will have complete coverage of the show here.
Gallery: Samsung's incredible success story: from grocery store to tech titans [LoveMoney]