'Whale in the sky' makes maiden voyage as Airbus Beluga XL departs Toulouse sending smiling giant soaring through air

Mirror
19/07/2018
The impressive aircraft, designed to resemble a Beluga whale, took to the skies as part of a 10-month test to see if the jet will be worthy of entering service.
Airbus plan to eventually bring the air cargo craft to Broughton in North Wales.
© Credits: REUTERS Complete with a whale mouth and eyes on each side of the nose, the Beluga XL will replace the current five plane Beluga ST fleet .
The new jet can carry six more tonnes and is 20ft longer, while being powered by two Rolls-Royce Trent 700 high bypass turbofan aircraft engines.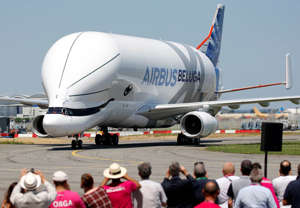 © Reuters It also has an enlarged fuselage "bubble" section that is six metres longer and one metre wider than on the Beluga ST.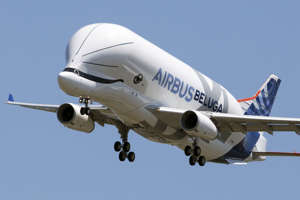 The maiden flight is expected to take around three and a half hours before landing back at Toulouse.
Tim Orr, head of branding at Airbus, said: "The six designs we proposed for consideration by employees respected our brand identity while running from the conventional to the unconventional, even adding a touch of fun."

© Credits: Facebook Airbus were live tweeting the plane's maiden voyage this morning, jokingly posting: "Whale, whale, whale...that's a lovely day for a maiden flight don't you think."
LOWPASS! 👋🏻 #BelugaXL pic.twitter.com/OVfs0IgUxE

— Airbus (@Airbus) 19 July 2018
They later tweeted "whale done" after a successful take off.
Whale done guys! 👍🏻 #BelugaXL pic.twitter.com/PUCh3UVGHC

— Airbus (@Airbus) 19 July 2018
Crowds of people had gathered alongside the runway to witness it taking to the air for the very first time
© Credits: AIRBUS
© Credits: REUTERS The test schedule could see the plane visiting North Wales in the coming months after upgrade work is completed at the Flintshire runway to accommodate the plane.
Airbus' new whale-shaped Beluga XL soars over France for its first flight pic.twitter.com/vH5e4lGG3y

— Reuters Top News (@Reuters) 20 July 2018
Whalecome back! 🛬 #BelugaXL pic.twitter.com/QY2M6WpqR4

— Airbus (@Airbus) 19 July 2018
Related: Battle of the jets: How does Putin's lavish plane compare to Trump's Air Force One?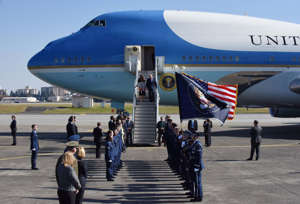 A total of five 'smiling whale' planes are expected to be put into service.
NOW SEE: Size is everything: the biggest things mankind has ever made (Photos)