Opinions | Morning Bits: Kavanaugh might fail, Republicans definitely will

The Washington Post
22/09/2018
Video: Trump says 'hard' to imagine Kavanaugh did wrong (Associated Press)
Editor's note: The opinions in this article are the author's, as published by our content partner, and do not represent the views of MSN or Microsoft.
Judge Brett M. Kavanaugh's confirmation fails to retain popular support. "An increasing number of Americans do not want the Senate to confirm President Trump's Supreme Court nominee, Brett Kavanaugh, according to a Reuters–Ipsos poll released on Wednesday. The survey, which partially took place before news broke of a sexual assault allegation against Kavanaugh, found that 36 percent of respondents did not support the Senate confirming Trump's second high court pick. The figure represents a 6-point increase from a similar poll conducted last month."

© Provided by WP Company LLC d/b/a The Washington Post Judge Brett M. Kavanaugh. (Saul Loeb/AFP/Getty Images) The Senate fails to conduct due diligence. "Anita Hill urged senators Wednesday to 'push the pause button' on plans to hold a hearing next week on allegations against Judge Brett M. Kavanaugh of sexual assault decades ago. She said the FBI should be allowed to investigate, as his accuser has requested. . . . 'Either they don't take this seriously,' she said, 'or . . . they just want to get it over.'" Both!
Download the all-new Microsoft News app to receive up-to-the minute news from the world's best sources – available now on iOS and Android
Sen. Maize Hirono (D-Hawaii) says Republicans' excuses fail the straight-face test. "Seventeen is not exactly a baby, either. These are serious allegations. She has a very credible story. I believe her. And now we have to do more than say, 'Well, look at the timing!' and 'Well, it's all politically motivated!' . . . . This has to be taken seriously."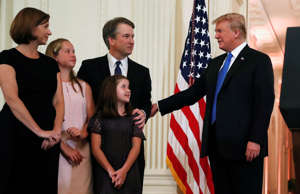 © Reuters U.S. President Donald Trump talks to Supreme Court nominee judge Brett Kavanaugh, his daughters and his wife Ashley Estes Kavanaugh, in the East Room of the White House in Washington, U.S., July 9, 2018. REUTERS/Leah Millis Five former prosecutors explain that sexual assault victims fail to come forward for very good reasons. "Many people have pointed to [Christine Blasey] Ford's delay in going public as evidence that she is lying. As prosecutors, we have learned that victims of sexual assault do not always come forward immediately — and often never do — because they are shamed by society, fear not being believed, worry that they will be blamed for the attack or just want to move on with their lives. 

Delay in reporting — particularly in the area of sexual assault — does not mean a report is false. And difficult as it is to come forward now, it would likely have been even more daunting for a 15-year-old girl in the 1980s, when Ford says she had this experience." Read the whole thing.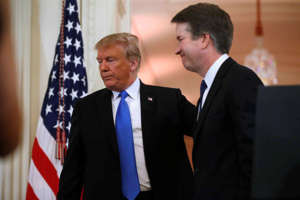 © Reuters U.S. President Donald Trump introduces his Supreme Court nominee judge Brett Kavanaugh in the East Room of the White House in Washington, U.S., July 9, 2018. REUTERS/Leah Millis If Republicans fail to hold their majorities, credit will go to motivated women voters. "[A]s voters begin to lock in their November plans in President Donald Trump's first midterm election, one key demographic group — Democratic women — is more motivated to vote than all the others. Seventy-one percent say they are very motivated to vote, more than any other group including Democratic men (63 percent), Republican men (68 percent), Republican women (69 percent), independent men (58 percent) and independent women (51 percent)."

Video: Kavanaugh accuser Ford 'willing to testify' if certain terms met (Al Jazeera)
The FBI never fails to impress, now slow-walking Trump's dangerous order to declassify documents connected to the special counsel's investigation of Russian interference in the 2016 election. "The Justice Department, FBI and Office of the Director of National Intelligence are going through a methodical review and can't offer a timeline for finishing, said the people, who weren't authorized to speak publicly about the sensitive matter. . . . The Justice Department and FBI are expected to submit their documents and proposed redactions to the Office of the Director of National Intelligence, which will assemble all the material into a package and hand it over to the White House, according to the people." And if the White House insists, they can resign.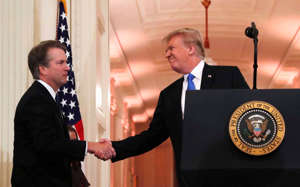 © Reuters U.S. President Donald Trump introduces his Supreme Court nominee judge Brett Kavanaugh (L) in the East Room of the White House in Washington, U.S., July 9, 2018. REUTERS/Leah Millis Trump's failure to imagine a sexual assault strains credulity. "President Trump offered a robust defense of Judge Brett M. Kavanaugh on Wednesday, saying it was 'very hard for me to imagine anything happened' with the woman who has accused the Supreme Court nominee of sexually assaulting her when both were teenagers."

Gallery: Poll: Brett Kavanaugh faces unprecedented opposition to Supreme Court confirmation (USA TODAY)