Trump on spending deal: 'We're building the wall anyway'

The Hill
12/02/2019
(Video by Time)
President Trump on Monday said he would build his long-desired wall along the southern border regardless of whether Congress approves funding for it.
"Just so you know, we're building the wall anyway," Trump said at a campaign rally in El Paso, Texas, which sits directly across the Rio Grande from Mexico.
Trump spoke shortly after lawmakers said they had reached a funding deal in principle to avoid another government shutdown set to begin on Saturday. The deal includes some money for barriers along the border.
Related: Deal reached to avert shutdown (The Hill)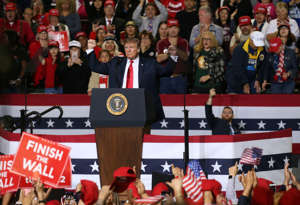 The president said he would not sign an agreement that cuts the number of detention beds used to house immigrants caught living illegally in the U.S.
"If we cut detention space, we are cutting loose dangerous criminals into our countries," Trump said. "I will never sign a bill that forces the mass release of criminals into this country."
© AP President Donald Trump arrives to speak at a rally in El Paso, Texas, Monday, Feb. 11, 2019. (AP Photo/Susan Walsh) Democrats appear to have dropped their demand to dramatically slash the number of beds, but the measure does not include Trump's full request for 52,000 beds.
A congressional source told The Hill that the deal will include $1.375 billion for physical barriers, including 55 miles of new structures near the Rio Grande Sector of the border. But the money is well short of Trump's demand for $5.7 billion in wall funding.
Trump said he was told "progress is being made on the talks," which he added he could have stayed in the nation's capital to monitor. But he told the crowd in El Paso he wanted to be with them instead, saying "I chose you."
During the Fox News broadcast of the rally, host Sean Hannity blasted the deal as a "garbage compromise" and said any Republican who supports it will "have to explain."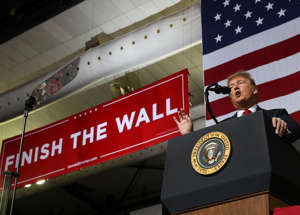 © Thomson Reuters U.S. President Donald Trump speaks during a campaign rally at El Paso County Coliseum in El Paso, Texas, U.S., February 11, 2019. REUTERS/Leah Millis Conservative media criticism of a prior spending deal that included no wall money helped spark Trump to shut down the government last December, which lasted for 35 days. Trump eventually relented and reopened government agencies when Democrats refused his wall money demands.

The president defended his decision, even though his approval ratings took a major hit as a result.
"If we didn't do that shutdown we would not have been able to show this country, these politicians, the world, what the hell is happening with the border," he said. "That was a very important thing we did."