Trump 'wants a bigger bed on Air Force One' and a 'more American' shade of blue
The Independent
12/07/2018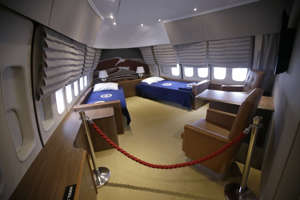 Donald Trump reportedly wants to overhaul the planes that fly him around the world, having Air Force One fitted with a larger bed and changing the shade of blue that dates back to John F Kennedy.
The White House currently is negotiating a $4bn deal with Boeing, dating back to the administration of Barack Obama, to provide two new 747s for official White House business. Whichever plane the president is using adopts the call sign Air Force One.
Axios reported that at a meeting with Boeing CEO Dennis Muilenburg in February, the president enquired about having the colour scheme of the plane changed, getting rid of the robin's-egg blue - which Mr Trump reportedly refers to as a "Jackie Kennedy colour" - for a bolder shade he believes would look "more American".
© Provided by Independent Digital News & Media Limited airforce-blue2.jpg

The website reported that Mr Trump, who is currently on a visit to Britain having previously attended a Nato summit in Brussels where he claimed member states had agreed to his demand that they increase their defence spending, also wants the personal living space on the plane upgraded to match that on his own personal Boeing 757, which he used as a campaign plane during his 2016 run for the White House. 

It said the current bed is more like a couch-like sleeping configuration, whereas he would like something larger and more comfortable.
Trump claims he saved a billion dollars on Air Force One, to the military's surprise

The report said that some senior officers of the US Air Force were upset about he proposed colour change, saying the current look is "known around the world".
Nobody from the White House, the Air Force or Boeing immediately responded to enquiries on Thursday.
Yet presidential historian Michael Beschloss expressed surprise about the possible move, asking Axios why would "anyone want to discard an Air Force One design that evokes more than a half-century of American history?"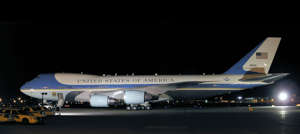 "Every time you see that blue trim and the words UNITED STATES OF AMERICA spelled out in that same typeface as an early version of the Declaration of Independence, it brings back JFK landing in Germany to speak at the Berlin Wall, Richard Nixon flying to China, Ronald Reagan stepping off the plane to see Gorbachev in Iceland and a thousand other scenes of Presidents in our past," he said.
"JFK and Jackie Kennedy approved that timeless design (created pro bono by the premier mid-20th century industrial designer Raymond Loewy) to replace an earlier version of Air Force One that had simply said 'MILITARY AIR TRANSPORT SERVICE'."
He added: "It was JFK who chose what Loewy called the "luminous ultramarine blue" that has appeared on every version of Air Force One (and some other Presidential aircraft) from 1962 on."