'You can't cheat then?': the Queen learns how self-checkout works on visit to Sainsbury's

Evening Standard
22/05/2019
Watch: The Queen learns how to use a self-serve checkout (ITN)
The Queen was introduced to the concept of supermarket self-service check-out tills today and immediately wondered if it was possible to get away without paying for some groceries.
"You can't cheat then?" she asked when Damien Corcoran, a regional manager for Sainsbury's stores in the north east of England, showed her how to use one of the firm's self-service tills.
Related: Supermarkets could charge 1p to use self-checkout machines (Mirror)
The 93-year-old monarch was shown the till when she visited a pop-up Sainsbury's in Covent Garden, central London, to mark the chain's 150th anniversary.
Mr Corcoran, who is normally based in Newcastle, explained to her how shoppers put items from their baskets or trolleys on the scales, key in details, and normally pay with credit cards.
Mr Corcoran also showed her how some shoppers now dispensed with tills altogether, choosing instead to pay via a mobile telephone app. "That's an interesting tool," his royal visitor replied.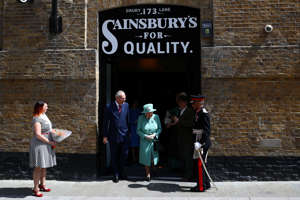 © Thomson Reuters Britain's Queen Elizabeth tours inside a replica of one of the original Sainsbury's stores in Covent Garden.
Me Corcoran, a former Captain in the Royal Signals, said that in his work for Sainsbury's he generally found there were two types of customers: those who embraced new technology quickly and were keen to use it, and others who needed a bit more help from staff.
"I think if I had seen the Queen in one of my stores in the north east of England I would have made sure I had assisted her," he said.
© Provided by Independent Digital News & Media Limited The Queen in Covent Garden today (PA)
In her long life the head of state has visited supermarkets. She has been to Waitrose twice. The last time was in 2016 when she went to her son Prince Charles's village Poundbury in Dorset.
But they along with most other visits to shops have been on official engagements when the public had been cleared out.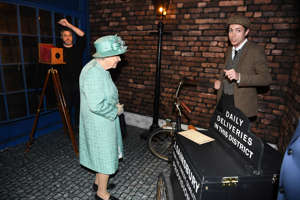 Off duty, she is sometimes thought to stop into shops in Ballater near Balmoral when she is staying on her Scottish estate. She once went for a walk around the duty free shops at an airport during a short stopover. But a trip to a big supermarket on a day off is probably out of reach for one of the world's most famous women.