Show-stealing appearances by royal bridesmaids and pageboys
Press Association
16/05/2018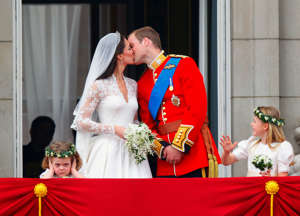 © Getty Prince William and his wife Kate Middleton, who has been given the title of The Duchess of Cambridge, kiss on the balcony of Buckingham Palace, London watched by bridesmaids Margarita Armstrong-Jones (right) and Grace Van Cutsem (left), following their wedding at Westminster Abbey. (Photo by Chris Ison/PA Images via Getty Images) Bridesmaids and pageboys at royal weddings have a habit of getting up to mischief.

The youngsters tasked with helping the bride on the big day have generated many show-stealing episodes over the years.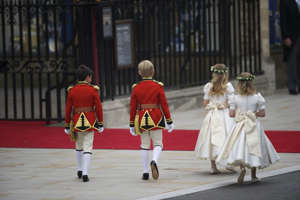 © Getty Bridesmaids and ring bearers arrive for the wedding of Prince William and Kate Middleton At the Duke and Duchess of Cambridge's wedding in 2011, little Grace van Cutsem was captured putting her hands over her ears and frowning because of the noise – just at the moment the couple kissed on the palace balcony – creating one of the best pictures of the day.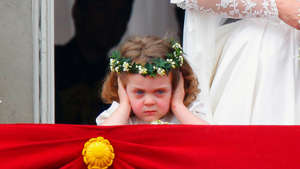 © Press Association William and Kate kiss on the balcony as Grace van Cutsem covers her ears (Chris Ison/PA) When Pippa Middleton married James Matthews in May last year, Prince George and Princess Charlotte were among the bridesmaids and pageboys.

Kate had to 'sssh' the gaggle of helpers after they made too much noise, and one pageboy was pictured appearing to flick two fingers up to the cameras along with sticking his tongue out.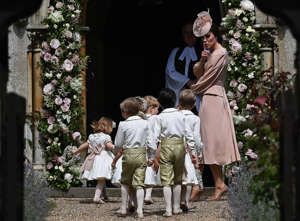 © Press Association Kate tells the young helpers to keep quiet at Pippa's wedding (Justin Tallis/PA) George also seemed tearful after the service when he appeared to receive a telling off from his mother.

In 1986, Prince William fidgeted, yawned, poked out his tongue and pulled faces at the bridesmaids at the Duke of York's wedding to Sarah Ferguson.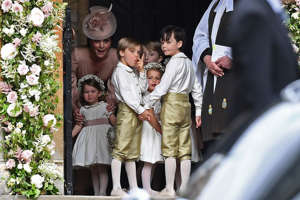 © Press Association A pageboy at Pippa's wedding appears to misbehave (Justin Tallis/PA) Dressed in a straw boater and a sailor outfit – a nod to Andrew's naval career – the young prince was just four years old.

The royal pageboy was described by David Dimbleby, who provided commentary on the live televised service, as looking "rather doubtful and rather cross" as he held his cousin Laura Fellowes' hand as they walked up the aisle in Westminster Abbey.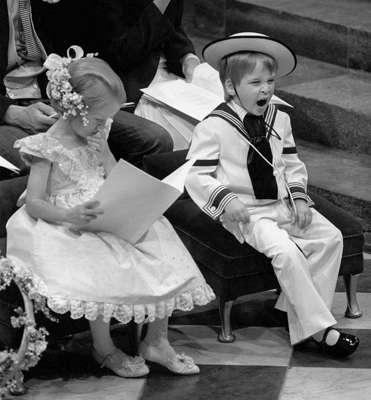 © Press Association A yawn from Prince William during the wedding ceremony of Sarah Ferguson and the Duke of York (PA) He later rolled his order of service into a trumpet, scratched his head, covered his face with his fingers and poked out his tongue at Laura, and left the abbey with his sailor hat almost falling off.

According to royal author Penny Junor, the event was a turning point for the Queen, who had been concerned about William's lack of boundaries.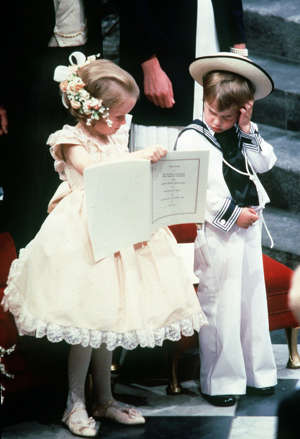 © Press Association William scratching his head at the Duke of York's wedding (PA) "He became so noisy, cheeky and unruly that the Queen, who was a loving grandmother, let it be known his behaviour was not acceptable," Junor wrote.

Junor described William's actions at the wedding as the "final straw".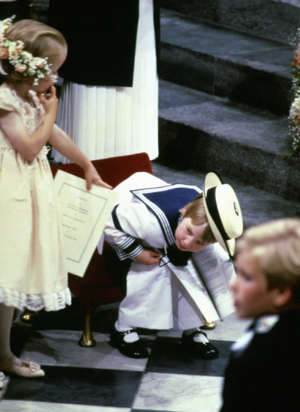 © Press Association Six year-old Laura Fellowes points at her cousin Prince William (PA) William went on to choose Laura Fellowes as one of Princess Charlotte's godmothers in 2015.