Soyuz rocket accident could spell trouble for space station

National Geographic
12/10/2018
Two astronauts' planned trip to the International Space Station (ISS) was cut short on Thursday, after a booster on their Soyuz rocket failed and forced the crew to abort the mission. The Soyuz accident will likely put a strain on the ISS's current crew—and may even threaten to interrupt use of the orbiting laboratory, which has been continuously occupied since November 2, 2000.
The Soyuz MS-10 launch was slated to carry U.S. astronaut Nick Hague and Russian cosmonaut Alexey Ovchinin to the ISS for a six-month mission.
But almost two minutes after liftoff, Hague and Ovchinin reported feeling weightless—a sign that the rocket was starting to fall back down.
Download the all-new Microsoft News app to receive up-to-the minute news from the world's best sources – available now on iOS and Android
The vehicle's emergency abort system then kicked in, jettisoning the crew capsule away from the rocket.
According to the BBC, the capsule landed some 310 miles northeast of Kazakhstan's Baikonur Cosmodrome, the spaceport where the Soyuz had launched.
During their sharply angled, ballistic descent back to terra firma, Hague and Ovchinin endured nearly seven times the force of gravity. Fortunately, officials with NASA and the Russian space agency Roscosmos have confirmed in statements that the crew is alive and in good condition.
© Photograph by Dmitri Lovetsky/AP Russian cosmonaut Alexey Ovchinin, left, and U.S. astronaut Nick Hague walk prior to the October 11 launch of the Soyuz MS-10 spaceship from the Baikonur Cosmodrome in Kazakhstan. Had their flight been successful, the pair would have stayed on the International Space Station for a six-month mission.

However, the incident provides a stark reminder of the difficulty of spaceflight, and it is likely to heighten scrutiny on Roscosmos and the broader Russian space industry.
The launch failure is the latest in a plague of technical mishaps: The Planetary Society reports that Russia had 15 launch failures from 2011 to 2016, ranging from explosions of satellite-ferrying rockets to placing satellites in the wrong orbits.
None of these recent missteps have claimed crews' lives. The Russian space program has not had a crew fatality since 1971, and it hasn't seen a crewed launch failure since 1983, when a Soyuz rocket caught fire just before launch. Those cosmonauts safely aborted and were unharmed.
Even without loss of life, Roscosmos will need to investigate the Soyuz failure, and that could involve grounding their fleet for weeks to months. Currently, Soyuz is the only active vehicle that sends humans into orbit; without it, astronauts may be stuck on Earth.
Stuck on Earth
As for the team already on the ISS, U.S. astronaut Serena Auñón-Chancellor, Russian cosmonaut Sergey Prokopyev, and German astronaut Alexander Gerst, the station's commander, have been on board since June. SpaceNews reports that the crew's descent vehicle, which has been docked at the station since June, has an orbital lifetime of roughly 200 days. On paper, it would need to return to Earth no later than Christmas.
The ISS's current crew "could undock and come home any time, but of course, just like after the Columbia accident, we need to think about the long-term plan for the health of the crew on the space station, and the space station itself," said Chris Hadfield, a former ISS commander and Soyuz copilot, in a livestream on Thursday. In 2003, the space shuttle Columbia broke apart during reentry, killing its seven-person crew and halting U.S. shuttle flights for more than two years.
Gallery: Spectacular photos from space (Photos)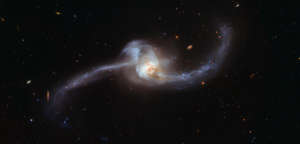 "If you abandon the space station," Hadfield said, "then there's no one there to fix things as they fail, and it'll eventually have a serious problem."
The Russian government-owned news agency Sputnik reports that if the Roscosmos investigation ends quickly, officials may reschedule the launch date of Soyuz MS-11 from December 20, 2018, to mid-November. Sputnik adds that Hague and Ovchinin would not ride aboard this mission, since it already has a three-person crew.
However, Russian news agency Interfax reports that Russia may suspend all uncrewed Soyuz launches, and that the crew on board the ISS may have to wait until early 2019 to hitch a ride home.
The exact cause of the accident will dictate when Soyuz launches again: "If it was something simple [and] easily diagnosable, then they might be able to get a rocket ready to fly again not too long from when they were planning," Hadfield said. "But if it's a complicated problem—and rocket failures are almost always complicated problems—it's going to take longer for them to sort out what it was.
Video: Soyuz Failure 'Very Rare,' Former Astronaut Bolden Says (Bloomberg)
"What that means is the three people living on the space station, they're basically marooned there indefinitely at this point," Hadfield added.
Can NASA pick up the slack? Not quite yet. Since the space shuttle program's closure in 2011, the U.S. space agency has paid the Russian government to launch its astronauts aboard Soyuz rockets. Those launches are getting pricey; at last count, NASA was charged $81 million per Soyuz seat.
NASA's Commercial Crew program aimed to fill this gap by spurring private companies to develop "space taxis" for U.S. launches. In 2014, the program awarded SpaceX and Boeing $6.8 billion in contracts to send astronauts to the ISS. Both companies are finalizing their craft, but along the way, they have faced serious delays: Last week, NASA said that the companies would launch crewed test flights to the ISS no sooner than June 2019.