Almost 300,000 people sign petition against the Tory-DUP deal in just 12 hours

The Independent
10/06/2017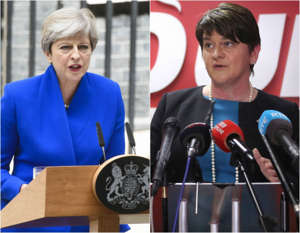 © Press Association Almost 300,000 people sign petition against the Tory-DUP deal in just 12 hours An online petition demanding that the Conservatives scrap plans to form a government with DUP support, gained nearly 300,000 signatures in just 12 hours.
Signed by 278,843 people at the time of writing, it also calls for Theresa May to resign after she lost her parliamentary majority.
Speaking outside No 10 after the result became clear, the prime minister said she would seek to form a minority government with a "confidence and supply" agreement with the Northern Irish party.
Watch: What general election result means (Provided by Wochit)
It would mean they would vote with the government on a case by case basis.
But the party is controversial for many of its illiberal stances on LGBT rights, abortion and climate change as well as its alleged links with unionist terrorists.
Many commentators have condemned the move saying it could potentially destabilise the peace process in the country which is already under strain following the collapse of the power sharing agreement earlier this year.
_________________________________________________________________
More on the election:

Full election results map: Click to find your MP

Election 2017: The latest news, views and opinion
_________________________________________________________________
The UK and Irish governments are currently trying to mediate between the DUP and Irish nationalists to restore the Northern Irish government.
Under the terms of the power-sharing deal if a unionist is First Minister, a nationalist must serve as Deputy First Minister. 
It was suspended in January when Sinn Fein withdrew from the agreement and said would refuse to work with the DUP while First Minister Arlene Foster remained in her post.
Ms Foster has refused to resign over a scandal from her time as finance minister when it was found she had personally campaigned to keep a government backed renewable energy scheme opened despite it overspending by £400m.
Former New Labour spin doctor Alastair Campbell, whose government got the Good Friday agreement signed in 1998, said Ms May was threatening the peace process by securing an alliance with one of the parties the Government is supposed to be mediating between.
Speaking on the BBC's Question Time, he said: "She is playing fast and loose, on Brexit, on Margaret Thatcher's greatest achievement the single market and now Tony Blair and Gordon Brown's greatest achievement which is the peace in Northern Ireland. 

"She is putting that at risk with a sordid, dangerous distasteful deal.
"We have a situation in the Northern Ireland right now where there has been a political crisis where the Government is the mediator with theIrish government between the DUP and Sinn Fein.
"How can our government be the mediator when the DUP are going to be part of our government?"