Amber Rudd admits she doesn't know if long term UK residents were deported in Windrush cases
The Independent
16/04/2018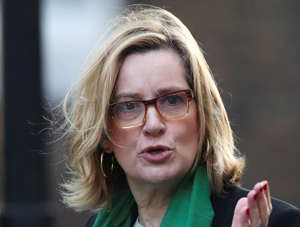 © Reuters Britain's Home Secretary Amber Rudd arrives in Downing Street in London Amber Rudd has shocked MPs by saying the Home Office does not know if members of the Windrush generation have been wrongly deported under harsh new immigration rules.

The home secretary criticised the application of the crackdown – introduced by Theresa May, her predecessor in the job – telling MPs: "I am very concerned about the way in which the Windrush generation have been treated."
But, asked if there had been wrongful deportations, she said she would have to meet Caribbean High Commissioners urgently to "find out if there are any such people who have been removed".
"If you lay down with dogs you get fleas" says Labour MP David Lammy over the treatment of "Windrush" generation UK residents pic.twitter.com/hKQxn2HBiP

— Sky News (@SkyNews) April 16, 2018
David Lammy, the Labour MP who secured an urgent question on the controversy, blamed the policies and "far right rhetoric" introduced by the current prime minister, warning: "This is a day of national shame." 

"Let us tell it like it is. If you lay down with dogs, you get fleas, and that is what has happened with this far right rhetoric in this country," he said.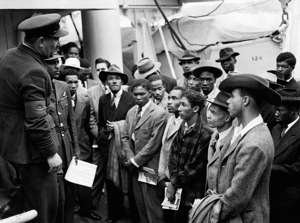 © Press Association File photo dated 22/06/48 of Jamaican immigrants being welcomed by RAF officials from the Colonial Office after the ex-troopship HMT Empire Windrush landed them at Tilbury. Amid rising anger on all sides of the Commons, the home secretary announced a new taskforce with the aim of ensuring the Windrush generation receive the paperwork they need to confirm their immigration status within two weeks.
And she said the fees involved in going through the process – which is £229 for each application – would be waived. Ms Rudd said there should be no doubt that people who arrived in Britain decades ago – often as children – "have the right to reside here lawfully".
"Some of the way they have been treated has been wrong, has been appalling, and I am sorry," she told MPs, during Home Office questions.
"I am very sorry for any confusion or anxiety felt" says Home Secretary Amber Rudd to the Windrush generation pic.twitter.com/YLUhhZhdC2

— Sky News (@SkyNews) April 16, 2018
The home secretary also made an astonishing implied criticism of her predecessor – and now boss – who introduced the self-described "hostile environment" for suspected illegal immigrants.

She suggested the Home Office had become "too concerned with policy and strategy and sometimes loses sight of the individual", in the recent past.
"We have seen the individual stories and they have been, some of them, terrible to hear - and that is why I have acted," Ms Rudd said.
The changes, demanding extra documentation from people who often arrived in the UK many decades ago, and consider themselves British, were introduced by Ms May in 2012.
Some people have been threatened with deportation to countries they left as children 50 years ago and have not returned to since – or, it is feared, have already been sent there.
Others have been denied access to healthcare, lost jobs, or been made homeless as they do not have sufficient paperwork to prove they have the right to be in the UK.
Although anyone living in the UK continuously since before January 1 1973 is legally entitled to live in the UK, people who have not applied for passports.
Some people moved before the countries they were born in became independent, and assumed that they were British.
The Migration Observatory at Oxford University estimates that some 50,000 Commonwealth-born people in the UK, who arrived before 1971, may not yet have regularised their residency status.