Applause for the hero officers: MPs break rules to honour policemen who rugby tackled Jo Cox's killer in a poignant tribute as the second anniversary of her murder nears

Daily Mail
16/05/2018
Two hero police officers who rugby tackled and arrested Jo Cox's murderer were today given a rare round of applause by MPs in the Commons today.
MPs flouted parliamentary convention to break into loud claps and as they paid tribute to the 'extremely brave' police officers.  
PCs Craig Nicholls and Jonathan Wright were both in the public gallery of the Commons watching as MPs applauded them below.
The two officers chased after neo Nazi Thomas Mair, rugby tackling and arresting him after he stabbed the MP outside a library where she was holding a constituency surgery.
Theresa May and Speaker John Bercow led tributes to the brave officers during the moving scenes.
Video: Theresa May Appoints Minister For Loneliness (Provided by Wochit News)
Opening PMQs, Mr Bercow said:  'Colleagues today the two extremely brave police officers who apprehended the killer of our late friend and colleague Jo Cox are in the side gallery for Prime Ministers Questions.

'I am referring to PC Joanthan Wright and PC Craig Nicholls, both of the west Yorkshire Police.
© Provided by Associated Newspapers Limited PCs Craig Nicholls and Jonathan Wright were awarded a medal for their bravery (pictured, picking it up at Buckingham Palace) for chasing and tackling the far right fanatic who murdered Jo Cox. They were both in the public gallery of the Commons watching as MPs applauded them below. 'Gentleman, we honour your public service, we thank you for it and we offer you the warmest of welcomes here to the House of Commons today.'

In a rare moment of parliamentary unity, MPs from across the political divide flouted strict rules to erupt into a spontaneous round of applause. 

Mrs May said it was appropriate for the Commons to 'recognise the bravery and hard work' of the two police officers.
She said: 'When Jo Cox was killed, this House lost one of its best.'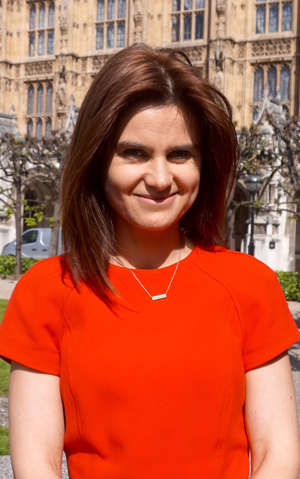 © Press Association Jo Cox Foundation of Jo Cox. Events to commemorate the life of the murdered MP are to be expanded in Scotland this year with more support from the Scottish Government and local councils. Mother-of-two Mrs Cox, 41, was shot and stabbed by Mair in her Batley and Spen constituency just days before the 2016 EU referendum.

Labour leader Jeremy Corbyn thanked Mr Bercow for welcoming the officers to the chamber, adding: 'They did great work, as indeed police officers do all over the country.'
Mair, as extreme rightwing terrorist, was  jailed for life for murdering the Labour MP for Batley and Spen shortly before the EU referendum vote.   
While attacking her he was saying: 'This is for Britain', 'keep Britain independent', and 'Britain first', the court heard.
Her murder rocked the country and sparked an outpurng of grief and tributes from MPs of alll political persuasions.
Parties have tried to further her work in trying to tackle loneliness by setting up a commission in her name.