Baroness Falkender: Political adviser who exerted more influence on Harold Wilson than anyone
The Independent
16/02/2019
In the Lords she never spoke. In a life devoted largely to fighting elections she never stood. In a mass movement she was accountable to only one man. Yet over a period of nearly eight years she was arguably the most powerful woman in Britain. She was envied by cabinet ministers and resented by civil servants. For Marcia Falkender had the ear of the prime minister and consistently exerted more political influence in Britain than any other woman until the arrival of Margaret Thatcher.
Her maiden name was Field, her married name was Williams, her title was Baroness Falkender but always she was known simply as Marcia, a Christian name which, incidentally, she disliked intensely. Few contemporaries have been identifiable so easily by just a first name. It was not only at Westminster that she made her name memorable as private and political secretary to Labour prime minister Harold Wilson.
At times Falkender dominated the papers. In 1974, for instance, when they were following up a land deal in which she and her family were involved, more than 6,000 column inches of words and pictures were devoted to the affair in less than a fortnight. Her relationship with Wilson was a subject of speculation, particularly in foreign publications. Her role in building up Wilson's political funds was questioned. Her quarrels with Downing Street colleagues were notorious and often public. Yet one story never emerged at the time when she was most powerful – the two children to whom she gave birth as an unmarried mother while she was employed at No 10.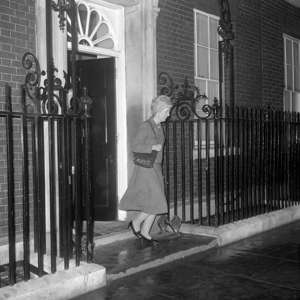 What took her so far at Westminster? Joe Haines, Wilson's press secretary, who in The Politics of Power (1977) wrote a book which helped to destroy her reputation, had to admit her best qualities. He described her as being at one point "politically indispensable". Then he went further: "If she had been Boadicea, she might not have lost." And he summed up: "Her gift was that she was a better politician on her good days than all those who made a profession of it."
And on other days? Even her admirers would have to admit that she could be tyrannical, wayward, often cruel. Gerald Kaufman once told me that any biography of Falkender should be called "With a Curl in the Middle of Her Forehead". For on her good days she was very, very good indeed. And on her bad ones she could be truly horrid.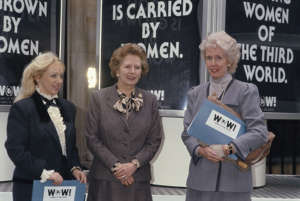 Marcia Field was born in 1932 in the Northamptonshire village of Long Buckley, was educated at a primary school and then won a scholarship to Northampton High School for Girls. Already anti-establishment and with views of her own, she was influenced by a left-wing teacher, the daughter of a former Tory chief whip, who saw that she sat successfully for another scholarship, which took her to London University, where she read history at Queen Mary College. She was educated almost entirely by her own efforts. Her father, manager of a small brickworks who later started his own building firm, helped out but there was never much money around in her childhood.
An honours degree in history suggested little except a teaching career which she was determined to avoid. So she took a secretarial course and snatched at the chance to work at the old Labour Party headquarters in Transport House, London. That year, 1955, she married a college boyfriend, George Edmund Williams ("Eddie") , an aeronautical engineer. The marriage did not last. She once told me: "I was very fond of Eddie but on my way to the honeymoon I had a dreadful feeling that we had made a mistake." Eddie obtained a job in the United States. She did not follow him. Later he wanted to marry again and there was an amicable divorce.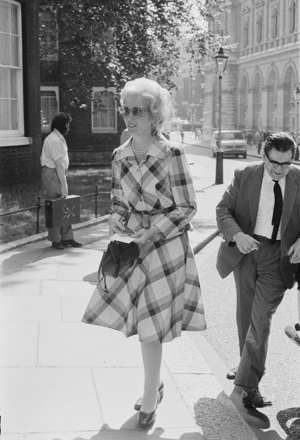 British Labour politician Marcia Falkender, Baroness Falkender, London, UK, 11th June 1975. (Photo by Evening Standard/Hulton Archive/Getty Images)
Harold Wilson appeared a glamorous figure when she started at Transport House. He was the brilliant young ex-cabinet minister who had risked his career by resigning with Nye Bevan. He was not on the left – he never had been – but he was far from the right-wing old guard who thought he needed curbing. Marcia, discovering the plots, sent him anonymous warnings. But she did not meet him until a Labour Party dinner at the Commons for the Soviet leaders, Khrushchev and Bulganin, which was intended to help the peace process but which typically produced a tremendous row. Marcia, entrusted with the shorthand note of the speeches, had little time for the drama for in her new role she was, in her own words, frozen with fear one minute and covered with perspiration the next.
Soon afterwards Falkender became Wilson's secretary. At first she worked in the Meyer timber group offices, where he was a consultant, but she moved to the Commons as Wilson became chairman of the Public Accounts Committee and eventually shadow chancellor. Whether it was her influence or not it was in this period that Wilson flowered. He had been a dull speaker, packing his speeches with figures, and a bit of a dull dog all round. Suddenly his speeches became full of irony and satire, reaching their peak during his famous duels with Harold Macmillan.
Falkender was not responsible for the content of his speeches – she had no talent in that direction – but many credit her with his change in style. She was certainly credited with the tactics in his battle for the leadership after the death of Labour leader Hugh Gaitskell in 1963 and she remained the driving force during Wilson's 14 years as leader.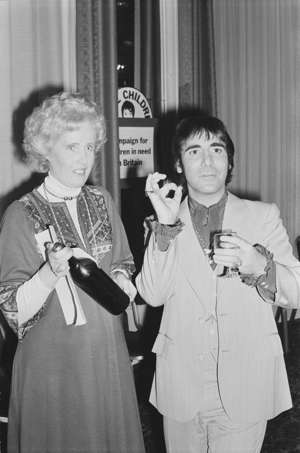 English drummer Keith Moon (1946 - 1978) with Labour politician Marcia Falkender at a charity event, 24th February, 1978. (Photo by Evening Standard/Hulton Archive/Getty Images)
Much of her advice was good. She was an intuitive politician. As a Garter knight Wilson adopted as his motto "Tempus rerum imperator" (roughly, "timing is everything"). That was Marcia's view too. She led him through the jungle of Labour and trade-union politics and was as responsible as anybody for the fact that there was never a serious threat to his leadership, although, ironically, she fed his fears and believed herself that he was in constant danger from a coup.
She also helped to fill Wilson's treasure chest. This took the form of a trust fund for the leader's expenses which had its origin in comparable contributions from rich businessmen to a poor party in the Attlee-Gaitskell years. Most gave because they believed in Labour and only wanted it to win. But those who gave most were those who, coincidentally, came to appear on the honours lists. In the end there was reason to believe that some gave primarily because they believed that Wilson would show gratitude in a way which reminded some of Lloyd George. And this apparently he did, though his own needs were modest.
She also made some major blunders. She was responsible, for instance, for the low-key, meet-the-people style of Wilson's 1970 election campaign with few big meetings and all the emphasis on Labour's sense of responsibility. This misjudgement came at a difficult time for her. She was still recovering from the effect of giving birth to boys in successive summers – 1968 and 1969. Timothy and Daniel were the sons of the late Walter Terry, a gifted Fleet Street political editor. Falkender's affair with him began in 1967 and for a time they lived together. Marcia hoped to marry him but in the end he refused to leave his wife. She never really recovered from this affair though the boys, who rarely saw their father after their first year, became the centre of her life.
Wilson's two general election victories in 1974 represented the peak of her political career. From then on, she knew, things would get worse. She realised that the Wilson government was going nowhere and he had told her, as he had told three or four other people, that he would resign in 1976. The stresses inside the political office became greater, the rows more wearing.
Then there was the great land deal story. Falkender's brother, a geologist turned businessman, had bought a slag heap near Wigan. When the slag was worked out the site seemed valuable for development purposes. Falkender and other members of the family became involved in the deal. A letter with Wilson's apparent signature on it was forged. The forgery was revealed to the press and Falkender's West End mews house was besieged. In the event the deal fell through and the forger went to prison. At his trial the prosecuting counsel observed that the Field family "have acted with complete propriety throughout the whole of these transactions". This was certainly the case but this was not the impression given by newspapers at the time.
That summer Falkender was made a life peer, as Wilson's act of defiance to Fleet Street. It was widely criticised at the time and the criticisms were renewed when Lady Falkender failed to speak in the upper house. She once told me that she had chosen her title because it had family connections and the connection had provided her with royal blood.
Then, in March 1976, Wilson resigned, saying at the time that he was tired of the job. Falkender fought the decision and until the final day sought to make him change his mind. It was the last of many battles she had had with the prime minister and possibly it was the most important. But this time she lost.
Marcia Falkender deserves to be remembered: she was witty and often brilliant, and lightened more lives than she harmed. That is more than one can say about most political figures.
Marcia Matilda Falkender, political adviser, born 10 March 1932, died 6 February 2019
Terence Lancaster died in 2007​