Boat carrying 34 migrants intercepted off coast of Dover
The Independent
18/02/2019
(Video by ITN News)
A group of 34 migrants have been intercepted in an inflatable boat after trying to cross the English Channel.

Two Border Force vessels and a coastal patrol boat spotted the group at around 6.30am on Monday.
"Today Border Force responded to an incident in the Channel involving a small boat containing 34 people. The group were brought to Dover and have been transferred to immigration officials for interview," a Home Office spokesperson said. 
© Provided by Independent Digital News & Media Limited Three men have been arrested on suspicion of immigration offences, the spokesperson added.

The nationalities of the intercepted people, who are thought to be refugees, remains unclear. All have been medically assessed and are believed to be well.
In December, Sajid Javid, the home secretary, declared a "major incident" following an increase in attempts to cross the English Channel in small boats.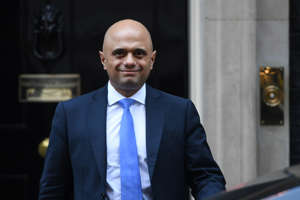 © PA Wire/PA Images Home Secretary Sajid Javid leaves 10 Downing Street in London. (Photo by Stefan Rousseau/PA Images via Getty Images) More than 500 refugees tried to travel to the UK on small vessels in 2018, with four in five of them attempting the journey in the last three months of the year.

Mr Javid ordered two Border Force boats to be redeployed in the Channel from overseas, in response to the increased number of crossings.
"The number of individuals attempting to cross the Channel decreased from around 250 in December to around 90 in January, with roughly half of the January attempts being intercepted by partners in France before they could make it to British waters," the Home Office spokesperson added.
Around 40% of the attempted crossings were either disrupted by French officials or saw the refugees returned to France.
The Home Office has tripled the number of boats patrolling the Channel since December.

Officials have also developed a joint action plan with France to tackle the issue.
Additional reporting by agencies