Boris Johnson's allies accuse Michael Gove of 'systematic and calculated plot' to destroy his leadership hopes

The Telegraph
01/07/2016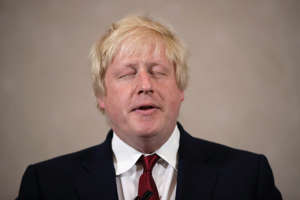 © Getty Images Boris Johnson Boris Johnson's allies have accused Michael Gove of a "calculated plot" to destroy the former London mayor's hopes of becoming Conservative leader by stealing his support in an act of "midnight treachery".
Mr Johnson is considering whether to support Theresa May, the Home Secretary, after being forced to withdraw from the contest.
Friends of the former mayor said that there was a "very deep pit reserved in hell" for Mr Gove as they alleged that the Justice Secretary had been plotting to stand as a candidate for months. George Osborne was named as a co-conspirator.
Mrs May is now the clear favourite. Her allies are increasingly optimistic that she may secure a place in the final two as early as next Tuesday. Last night there were suggestions that her support was so overwhelming that she could win the leadership without a contest, in a "coronation".

She now has the backing of more than 60 Tory MPs including four Cabinet ministers and five ministers. Many of Mr Johnson's supporters chose to join her rather than Mr Gove.
Until Wednesday night, Mr Johnson had appeared the firm favourite to take over from David Cameron as Tory leader, and therefore prime minister. But shortly after 9am on Thursday, he learnt that he was the victim of the most spectacular political assassination in a generation. Mr Gove had failed to inform the former mayor before announcing that he had decided to stand after a late-night change of heart.
Within an hour it emerged that more than half of Mr Johnson's supporters, including several ministers, had abandoned him to support Mr Gove.

At 11.30 Mr Johnson announced that he had too little support among MPs to stand for the leadership. He said: "Having consulted colleagues and in view of the circumstances of Parliament, I have concluded that person cannot be me." 
"This was a carefully planned assassination," an ally said. "It was systematic and calculated to do the maximum damage to Boris. 
"When he saw his opportunity for an act of midnight treachery he took it."
Mr Johnson's allies claim to see the "hand of George Osborne" in the plot and expect the Chancellor to come out in favour of Mr Gove. The claim has been denied by Mr Gove's aides. 

On Thursday night it was suggested that Mr Gove could offer Mr Osborne the chance to remain as Chancellor. However, the claim was denied by sources close to Mr Gove.
Mr Gove insisted he had only decided to stand on Wednesday night after concluding that Mr Johnson was unsuitable for the leadership. 

Mr Gove said: "Boris is a big character with great abilities and I enjoyed working with him in the referendum campaign, when he campaigned with great energy and enthusiasm.
"But there is something special about leading a party and leading a country, and I had the opportunity in the last few days to assess whether or not Boris could lead that team and build that unity.
"And I came reluctantly but firmly to the conclusion that while Boris has many talents and attributes, he wasn't capable of building that team. And there were a number of people who had said to me during the course of the week, 'Michael it should be you'."
Mr Gove will make a speech on Friday in which he is expected to pitch himself as the "underdog fighting for the underdog" and outline his vision of a Conservative party for the "dispossessed".
His decision to stand is likely to reignite bitter divisions with Mrs May, who he has previously accused of failing to be tough enough on extremism. 
She pledged to "make Britain a country that works for everyone" as she said she would unify the party and the country after the EU referendum.

Three other candidates declared for the contest: Andrea Leadsom, a Eurosceptic energy minister; Liam Fox, a former defence secretary; and Stephen Crabb, the Work and Pensions Secretary.
Friends of Mr Johnson said that tensions with Mr Gove first emerged at the weekend, when Mr Johnson agreed to make Mr Gove his chancellor if he won but refused to agree to his choice of chief of staff.

Friends of Mr Gove also suggested that he was disappointed at an article Mr Johnson wrote in The Daily Telegraph on Monday, which was seen as soft on immigration controls.
On Tuesday a leaked email from Sarah Vine, Mr Gove's wife, suggested the Justice Secretary did not trust Mr Johnson.

On Wednesday evening Mr Johnson's allies believed that he and Mr Gove between them had the support of 97 MPs.
Within an hour of Mr Gove announcing his candidacy, support for Mr Johnson had fallen to 47 MPs.

Jake Berry, a member of Mr Johnson's team, said in a tweet which he later deleted: "There is a very deep pit reserved in Hell for such as he."