Brexit secretary Dominic Raab says he 'hadn't quite understood' importance of EU trade to UK economy
The Independent
08/11/2018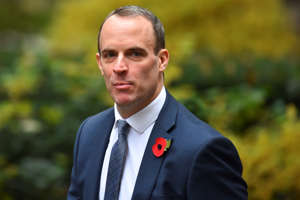 © Getty Brexit Minister Dominic Raab arrives at 10 Downing Street Dominic Raab has been ridiculed after saying he "hadn't quite understood" the importance of cross-Channel trade to the UK economy.
The extraordinary admission came as the Brexit secretary also warned shoppers to expect less choice of goods if leaving the EU damages the trade route from France.
Speaking at an event for tech firms, Mr Raab said Theresa May was pursuing a future trade deal that recognised the "peculiar geographic economic entity" of the UK, as an island nation.
"I hadn't quite understood the full extent of this, but if you look at the UK and look at how we trade in goods, we are particularly reliant on the Dover-Calais crossing," he said.
"And that is one of the reasons why we have wanted to make sure we have a specific and very proximate relationship with the EU, to ensure frictionless trade at the border."
The comment drew scorn from the scientist and broadcaster Brian Cox, who tweeted: "How could it possibly come as a surprise to Dominic Raab that our most important trade gateway is that which is closest geographically to our most important market?"
Related: 'A Farage in every country': Barnier warns entire EU project is 'under threat'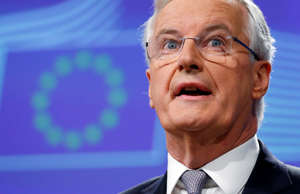 © Reuters Michel Barnier

Download the Microsoft News app for your Android or iPhone device and get news & live updates on the go.
Nicky Morgan, the former Conservative cabinet minister who advocates a soft Brexit, tweeted simply: "Gulp' #enoughsaid."
And Jo Stevens, a Labour supporters of the anti-Brexit Best for Britain group, said: "These comments are shocking.
"We finally have an admission of what we've known all along - that the Brexiteers hadn't really thought through any of the impacts of leaving the EU.
"British jobs, supplies and services rely on key border crossings like the Dover strait and the fact that the Brexit Secretary is only just realising this is a serious cause for concern."
© Provided by Independent Digital News & Media Limited The gaffe comes after Mr Raab was forced to backtrack on a claim that the Brexit agreement would be in place by 21 November, as the talks continue.
In the speech on Wednesday evening, Mr Raab also dismissed the "risk of major shortages" if the UK failed to preserve frictionless trade with the EU.
But he said: "I think probably the average consumer might not be aware of the full extent to which the choice of goods that we have in the stores are dependent on one or two very specific trade routes."