British PhD student, 31, has been held in solitary confinement in UAE jail for FIVE MONTHS after being arrested at Dubai airport and accused of spying during Durham University field trip

Daily Mail
11/10/2018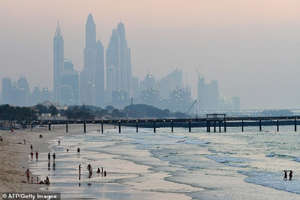 © Provided by Associated Newspapers Limited Mr Hedges was in Dubai on a research trip studying for his PhDat Durham University A British student has been held in solitary confinement in Abu Dhabi for five months over spying claims, it was reported last night.
Matthew Hedges, 31, had been on a research trip in Dubai for his PhD at Durham University. But he was seized at the airport in May when he tried to leave the country, according to The Times.
Mr Hedges was taken to Abu Dhabi and held in solitary confinement for five months.
During that time he was permitted to phone his mother once and has since had one visit from his wife, Daniela Tejada, who he has been able to call.
Download the all-new Microsoft News app to receive up-to-the minute news from the world's best sources – available now on iOS and Android
Mr Hedges has also had two visits from Foreign Office officials, but the office has refused to comment on his case or confirm that he was being held.
It did, however, confirm last night that Foreign Secretary Jeremy Hunt and his Emarati counterpart had held talks about the case.
Yesterday the student was taken to the UAE's state security court for a hearing and allowed to speak to a lawyer.
No charges were outlined and the case was allegedly adjourned to October 24.
The exact nature of Mr Hedges's alleged crime has not been made clear.
However, colleagues believe he was accused of spying for Qatar, which the UAE says is working to undermine it.
His wife Ms Tejada, 27, told the Times: 'We all know that is not true.' She said that her husband is unharmed physically but suffering from panic attacks and depression.
'It was evident he was on medication. He was constantly shaking. He clearly did not expect to see me He seemed to be very cautious about what he said and what he didn't say, which leads me to think he might have been coerced into saying or not saying certain things', she added.
'It breaks my heart that we have been married for nearly two years and only been able to spend four months together,' she added. 'I just want him back..' Ms Tejada, who met Mr Hedges at Exeter University, said his PhD was about Emirati security policies after the Arab Spring.
He grew up partly in Dubai and worked there before his research, so was fully aware of the sensitivity of the subject.
Mr Hedges has previously published a journal titled, 'The GCC and the Muslim Brotherhood: What Does the Future Hold? Middle East Policy' and is interested in Middle Eastern politics, his university staff profile suggests.
His confinement has raised concerns among academics about the freedom of researchers to operate in different countries.
Links have been drawn between this recent case and that of Italian-born Giulio Regeni, the Cambridge University PhD researcher was killed in Cairo for studying the Egyptian trade movement.
Kristian Ulrichsen, an associate fellow at Chatham House, said that the case 'puts the UAE on a par with Iran, Egypt and Turkey.' The Foreign Office said: 'Our staff are supporting a British man following his detention in the UAE. We are assisting his family and remain in close contact with the local authorities. The foreign secretary has personally raised his case with his Emirati counterpart.'