Collision eyewitnesses: A van came out of nowhere

Sky News
19/06/2017
Video: Finsbury Park witness: I saw so many people shouting
Many of the people hurt after a vehicle struck pedestrians in north London are thought to have just finished worshipping at the Finsbury Park Mosque. 

Eyewitnesses described seeing police giving emergency medical treatment to victims after the incident which happened just after midnight in Seven Sisters Road.
© PA How the attack unfolded Finsbury Park resident Cynthia Vanzella told Sky News she was trying to get to sleep when she heard a lot of shouting and panic.
She said: "It was really ugly. I could see at least two people on the floor not moving and police officers trying to do cardiac massage on them."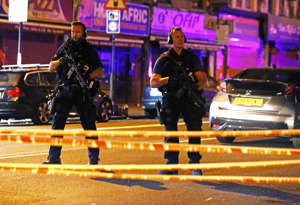 © Reuters Collision eyewitnesses: A van came out of nowhere One man, who gave his name as Mohin, said his cousin was caught up in the incident.
The 32-year-old told the Press Association: "There were a lot of people in the street, crossing the street, going to mosque for prayers, for forgiveness, just to pray and go home and eat.
"They are doing their usual daily routine - they did not expect a van coming out of nowhere hitting them.
© Getty Officers were called at 12.20am to Seven Sisters Road "It was around 11.30pm, 12-ish. I've been living here all my life. As a community, everyone's a family here.
"I initially thought it was my cousin."
Jennifer Heape tweeted: "Apparently a van has ploughed into people coming from #FinsburyPark mosque. People are reporting of several injured, some fatalities.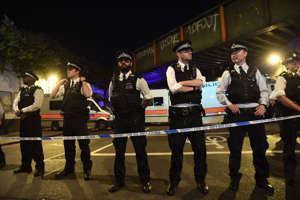 © Press Association Collision eyewitnesses: A van came out of nowhere "Police are escorting people home very calmly. They are making sure people stay indoors.
"No panic, but it's very serious. A LOT of helicopters."