Councils warn of £3bn child services black hole as thousands more children require protection
The Independent
09/11/2018
© Provided by Independent Digital News & Media Limited Social workers drew up 29 more child protection plans every day last year than they did five years ago, figures reveal, as council leaders warned stretched children's services are facing a £3bn funding black hole.
Some 10,000 more children were subject to protection plans - arrangements drawn up by local authorities setting out how keep vulnerable minors safe and assist their families - by the end of 2017-18 as compared to five years prior.
Government figures showed that, overall, 404,710 children referred to authorities across England were deemed to require the support of social services at the end of March this year.
Download the all-new Microsoft News app to receive up-to-the minute news from the world's best sources – available now on iOS and Android
A total of 53,790 children were on protection plans in the year ending March 2018, 10,600 more than the 43,190 being monitored at the same point five years ago.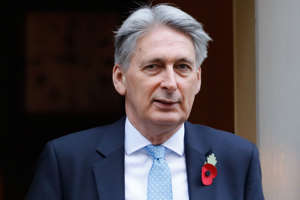 Chancellor Philip Hammond announced an additional £410m would be awarded in next year's Budget to help fund child and adult services, but the Local Government Association (LGA), which represents councils in England and Wales, said the figure "falls well short" of the level needed to keep services running effectively.
The LGA estimated councils will face a collective £3bn shortfall in their child services budgets by 2025 unless extra cash is made available.
Anntoinette Bramble, chair of the LGA's children and young people board, called on the government provide a long-term solution to what she described as a "funding crisis" in children's services.
"These figures highlight the sheer volume of cases that are being started by social workers on a daily basis, and illustrate the scale of demand for help from children and their families," she said.
"But a lack of long-term funding is pushing children's services to a tipping point, and threatens to undermine the vital support councils provide in protecting children and keeping them safe from harm.
"While it was good the chancellor announced some new money in the Budget, this will not tackle the immediate and future pressures on services."
Video: "Budget 2018: Philip Hammond reveals £650m for social care"
More than half of the children identified as in need of the help of social services last year were victims of abuse or neglect, while a further 23 per cent needed help due to either family dysfunction or illnesses and disabilities.
"A perfect storm is brewing in children's services with social workers dealing with increasingly complex cases, and too many children reaching crisis point before they receive support, said Javed Khan, chief executive of children's charity Barnardo's.
"The LGA figures reflect the findings of Barnardo's recent poll, which found 85 per cent of social workers said they are unable to give all children on their caseloads the time and support they need."
Children and families minister Nadhim Zahawi said: "Every child, no matter their circumstances, should have the care and support they need for a happy, fulfilling life.
"In the Budget we announced an additional £410m for adult and children's social care services, in recognition of the pressures on local councils.
"We are also investing £84m over the next five years to support up to 20 local authorities who are seeing high or rising demand for children's social care to work more effectively with their most vulnerable families."