David Davis accuses EU of 'bad faith' over plan to punish UK

The Guardian
09/02/2018
video provided by ITN News
The Brexit secretary, David Davis, has accused the European commission of acting in "bad faith" for publishing proposals this week that would enable it to impose sanctions on Britain during the post-Brexit transition period.
Speaking after Thursday's meeting of Theresa May's Brexit strategy group, Davis criticised the tone of a legal text on the transition period published by the commission this week.
"I have to say I thought that document was hardly a legal document; it was a political document," Davis told broadcasters. "What we're about is building an implementation period, which is to build a bridge to a future where we work well together.
"And I do not think it was in good faith to publish a document with frankly discourteous language, and actually implying that they could arbitrarily terminate, in effect, the implementation period. That's not what the aim of this exercise is, it's not in good faith, and we think it's unwise to publish that."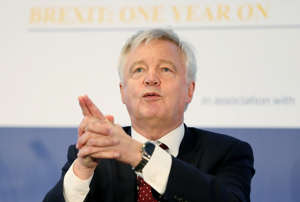 Davis was irked by the broad tone of the document as well as specific proposals, contained in a footnote, which would allow the EU27 to bypass the court of justice and impose swift punishment on the UK for infringing the rules of the single market.
Staying in the single market and customs union
The UK could sign up to all the EU's rules and regulations, staying in the single market – which provides free movement of goods, services and people – and the customs union, in which EU members agree tariffs on external states. Freedom of movement would continue and the UK would keep paying into the Brussels pot. We would continue to have unfettered access to EU trade, but the pledge to "take back control" of laws, borders and money would not have been fulfilled. This is an unlikely outcome and one that may be possible only by reversing the Brexit decision, after a second referendum or election.
The Norway model
Britain could follow Norway, which is in the single market, is subject to freedom of movement rules and pays a fee to Brussels – but is outside the customs union. That combination would tie Britain to EU regulations but allow it to sign trade deals of its own. A "Norway-minus" deal is more likely. That would see the UK leave the single market and customs union and end free movement of people. But Britain would align its rules and regulations with Brussels, hoping this would allow a greater degree of market access. The UK would still be subject to EU rules.
The Canada deal
A comprehensive trade deal like the one handed to Canada would help British traders, as it would lower or eliminate tariffs. But there would be little on offer for the UK services industry. It is a bad outcome for financial services. Such a deal would leave Britain free to diverge from EU rules and regulations but that in turn would lead to border checks and the rise of other "non-tariff barriers" to trade. It would leave Britain free to forge new trade deals with other nations. Many in Brussels see this as a likely outcome, based on Theresa May's direction so far.
No deal
Britain leaves with no trade deal, meaning that all trade is governed by World Trade Organization rules. Tariffs would be high, queues at the border long and the Irish border issue severe. In the short term, British aircraft might be unable to fly to some European destinations. The UK would quickly need to establish bilateral agreements to deal with the consequences, but the country would be free to take whatever future direction it wishes. It may need to deregulate to attract international business – a very different future and a lot of disruption.
Irritation in the Department for Exiting the European Union was also exacerbated by the EU's chief negotiator Michel Barnier's remarks, after what they had felt was a good-natured lunch in Downing Street on Monday, that there was "not a moment to lose" in agreeing a transition deal and it was "time to make a choice".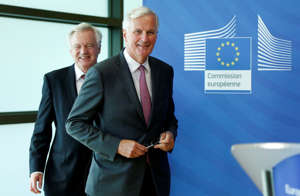 Government sources also claimed that commission officials had cancelled several meetings scheduled for this week at short notice – despite Barnier's insistence that the need for progress was urgent.
Both sides of the cabinet divide over how closely Britain should remain aligned to the EU after Brexit emerged from Thursday's meeting saying that some progress had been made, and the talks had been good-natured.
Negotiations with the EU27 are set to resume on Friday in Brussels, where Barnier is expecting to hear more detail about Britain's preferred outcome – and will give his own assessment of progress in a press conference.
Asked whether the committee meeting in Downing Street had made progress, Davis said: "The atmosphere is very constructive."
The Brexit secretary also rubbished the economic assessments that have been privately made available to MPs this week, parts of which have been leaked to the press. He said: "Every single financial forecast and economic forecast has been proven wrong so far – massively wrong. All on the same side, all underestimated the progress of the economy."
He added that the forecasts were "a work in progress" and said: "You wouldn't drive a car that's half-finished; you wouldn't use a forecast that's half-completed." He said none of the projections, which showed significant hits to growth and tax revenues in every scenario examined, had focused on the particular outcome the government was seeking.
"It assessed other things that might look a bit like it, but are not like it, and we intend to publish something at the end of this exercise which shows precisely what we want to achieve, which is progress for Britain," Davis said.
Economic forecasts of the impact of Brexit have become a fraught topic. The Brexit minister, Steve Baker, apologised last week after appearing to suggest that the Treasury was fiddling its economic models in order to win the argument for staying in the customs union.
May struck a more emollient tone on Thursday after a meeting with Japanese carmakers in which she sought to reassure them about potential disruptions to trade. Downing Street said: "The prime minister set out her vision for an outward-looking, global Britain and the long-term opportunities presented by the modern industrial strategy."
The Japanese ambassador to the UK, Koji Tsuruoka,said afterwards: "Japanese companies are enjoying their operations in the UK and they have also today said they would very much like to continue this successful operation in the UK, which of course is comprised with access to the European market.
"Therefore the question is whether the arrangements that will be reached between the two sides will allow the Japanese companies, who are willing and in some ways determined to continue to operate in the UK, to make that happen.
"If there's no profitability of continuing operations in UK no private company can continue operations – simple as that. This is all high stakes [and] all of us need to keep [this] in mind."
Never miss an important story, Follow us on Facebook, and on Twitter