Derek Hatton: Former Militant member readmitted to Labour 34 years after expulsion
The Independent
18/02/2019
© Provided by Independent Digital News & Media Limited Former member of the left-wing Militant faction and deputy leader of Liverpool council, Derek Hatton, has been readmitted to the Labour Party – 34 years after he was expelled.
Reports of his approval back into Labour's ranks came after seven MPs resigned from the party on Monday - the biggest schism in the party since the formation of the Social Democratic Party (SDP) in the 1980s.
Mr Hatton was thrown out of the party by Labour's former leader Neil Kinnock, for belonging to the Militant left-wing faction and for overseeing an illegal "deficit" budget in protest at Margaret Thatcher's Conservative government.
He caused controversy in the 1980s over the move, and clashed with the Labour leader leadership over stunts such as sending redundancy notices to council workers via taxis.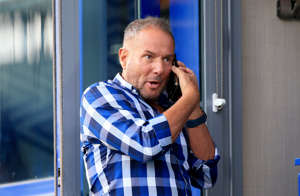 © PA Wire/PA Images Derek Hatton in the stands during the Premier League match at Goodison Park, Liverpool. (Photo by Peter Byrne/PA Images via Getty Images) According to the Daily Mirror, his return to the party was approved during a meeting of the party's disputes panel - overseen by Labour's ruling National Executive Committee (NEC).

He told the newspaper he was not prepared to discuss "particulars" of what had gone on but that the "processes have happened", adding: "I am a member of the Labour Party."
He continued: "During that 30-odd years that I was expelled, I never once stood against, supported, voted against any Labour candidate.
"It's very topical it should be at the time when seven members resigned because obviously there were times when it was very tempting to go a different way - during the Iraq War, loss of Clause IV, many things - but I believed then as I believe now the Labour Party is the political arm of the trade union movement."
Video: Seven UK MPs quit Labour party over anti-Semitism (Associated Press)
When asked by The Independent about his claim, Labour sources did not deny his readmission, but a spokesperson added: "We don't comment on individuals memberships".

The 71-year-old has previously cited the leadership of Jeremy Corbyn for rejoining the party, and reacting to the splintering of MPs on Monday, Mr Hatton said: "For them to leave now is at best hypocritical and at worst dishonest."
He told the Liverpool Echo: "All seven of them increased their majorities standing on a Jeremy Corbyn manifesto."