Driver in M1 crash that killed eight people did not have lorry licence, court hears

The Telegraph
14/09/2017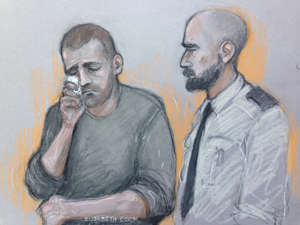 © Press Association Driver in M1 crash that killed eight people was 'asleep' in slow lane The Polish trucker accused of killing eight people in a horror incident on the M1 motorway did not have a licence to drive his lorry, it was revealed on Thursday.
The new development happened when the 31-year-old made an application for bail to a Crown court judge.
Judge Francis Sheridan heard that Ryszard Masierak had held a licence to drive heavy goods vehicles but this had been revoked before the fatal crash on the M1 last month which ended with him being charged with causing eight deaths by dangerous driving and being over the drink-driving limit.
Masierak had been remanded in custody ever since the lorry he was driving was involved in the crash with a minibus and another lorry that killed eight people and left another four fighting for their lives.
It was said to have been the worst motorway tragedy for 25 years. A barrister representing the Polish driver made an application on his behalf for bail but Judge Francis Sheridan refused.
Judge Sheridan heard in Aylesbury, Bucks., that Masierak's licence to drive his articulated lorry had been revoked.
"At the time of this offence VOSA [Vehicle and Operator Services Agency, which was replaced by the Driver and Vehicle Standards Agency ( DVSA ) in 2014] had revoked his HGV licence," said prosecutor Nigel Ogborne.
He added: "Just to give you some background, we know that the defendant was stationary in lane one [at the time].
"He was in the slow lane, there for 12-and-a-half minutes. The other lorry came up behind. We can go no further at this stage because his co-defendant and those that represent him are not here."
Six men and two women were killed in the collision on the southbound carriageway of the M1 near Newport Pagnell, Bucks, when the minibus they were travelling in was virtually flattened in the crash.
Masierak was accused of stopping his HGV in lane one of the motorway and, as the minibus attempted to avoid it, it was involved with a collision with another lorry.
He was charged with a total of 20 counts relating to the collision including eight counts of causing death by dangerous driving, four counts of causing serious injury by dangerous driving and eight counts of causing death by careless driving while over the prescribed limit.
Three Indian contractors were among the dead who were travelling southbound along the motorway from Nottingham to London on August 26.
Milton Keynes Coroner Tom Osborne last week formally named a couple who died in the crash as Karthikeyan Pugalur Ramasubramanian, 33, and his wife, Lavanyalakshmi Seetharaman, 32, who were from the Alwarthirunagar area of Chennai, India.
Subramaniyan Arachelvan, 58, and his wife Tamilmani Arachelvan, 50, from the Saket area of Dehli, India were named as another couple who lost their lives in the collision.
The inquest opening also formally named 63-year-old Panneerselvam Annamalai from the Nagar area of Chennai, India, 26-year-old Vivek Baskaran from the Avaiyambalpuram area of Mayiladuthurai, India, and 27-year-old Rishi Rajeev Kumar from Kerala, India.
Minibus driver Cyriac Joseph, 52, and from Nottingham, was the only person killed in the crash with a British address. Judge Sheridan refused bail for Maseriak and adjourned a plea and trial preparation hearing for six weeks so that the families of the dead had time to bury their loved ones.
"I am not going to grant bail in this case," he said.
He added: "I have been told by counsel in chambers that the families of the many deceased would like time to bury their loved ones and this is only right - this is, after all, England - so I am going to adjourn pre-trial preparation hearings for both defendants for a period of six weeks."
Masierak, of Evesham, Worcs., was due to reappear at the same court, alongside the second lorry and his co-defendant David Wagstaff, who was granted bail, on October 27.
Wagstaff, Stoke-on-Trent, Staffs., was also charged with eight counts of causing death by dangerous driving and four counts causing serious injury by dangerous driving.
The 53-year-old appeared at Milton Keynes Magistrates' Court on Monday where he was granted bail, on the condition that he did not leave the country without informing the authorities, to also reappear at Aylesbury Crown Court on September 26, although this date was changed to October 27.