Engineering student who killed man while speeding in sports car spared jail because he has 'survivor's guilt'

Evening Standard
17/07/2017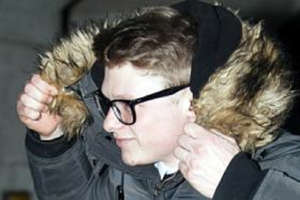 © Independent Engineering student who killed man while speeding in sports car spared jail because he has 'survivor's guilt'

An engineering student who killed a pedestrian while speeding in his Mazda MX5 sports car has been spared jail.
Karol Michta, 22, was "enjoying the thrill" of speeding home when he struck 53-year-old builder Henrik Luszcz as he crossed the A4 in Isleworth.
Michta, a free runner who once performed at 10 Downing Street, was due to be sentenced in February, but Judge Anthony Morris QC agreed to delay the hearing until he had finished his degree at Queen Mary University.
Video: UK imposes new penalties for using a phone while driving (Wochit News) 
At the Old Bailey, the judge sentenced Michta to 12 months in prison suspended for two years after hearing he now suffers from "survivor's guilt".
He was driving at more than 60mph in a 40mph area while trying to keep up with a friend's Mercedes when Mr Luszcz stepped into the road on May 17 last year.Read moreFree-runner faces prison for death crash in speeding carThe Polish-born builder was catapulted into the air "to the height of a double decker bus", suffering catastrophic injuries.
Sentencing Michta, the judge said Mr Luszcz had decided to cross the three-lane dual carriageway in an unsafe place, and urged transport chiefs to move a bus stop nearer to a pedestrian crossing.
Judge Morris, who had previously indicated the student would be jailed after admitting causing death by careless driving, agreed to suspend the sentence because of Michta's psychiatric issues following the crash.
He ordered him to complete 250 hours of community service and attend a 20-day rehabilitation course.