Every council in England ordered to make urgent list TODAY of buildings with cladding like in Grenfell Tower

Mirror
19/06/2017
Every council in England has been ordered to make an urgent list of buildings that have the cladding suspected of speeding up the Grenfell Tower fire.
The government has demanded two lists - all buildings with "aluminium composite" panels and all buildings over 18 metres high - by the end of today in a bid to stop other towers being a death trap.
All the latest news, views and opinion on the Grenfell tragedy
Town halls will then be ordered from tomorrow to send samples of any ACM cladding for government-run fire tests.
Video: Emotional tribute from firemen to Grenfell Tower victims (PA)
Cladding was suspected of speeding up the blaze that killed at least 79 people in the 24-storey block in west London.
Yesterday Chancellor Philip Hammond appeared to say the type of cladding used on the tower was already banned in the UK on blocks more than 18 metres high.
Today Downing Street claimed he was talking about cladding named in media reports - and wouldn't "wade into" confirming if that was the exact type of cladding on Grenfell Tower.
The letter was sent on Sunday by Melanie Dawes, the civil service chief of the Department for Communities and Local Government (DCLG).

She told councils: "There is significant anxiety amongst residents about whether their own blocks are safe."
She added: "It is important to stress that ACM cladding is not of itself dangerous, but it is important that the right type is used."
A Downing Street spokeswoman said: "DCLG are now in the process of talking to all local authorities about issues such as type of cladding that is used across public buildings and so on.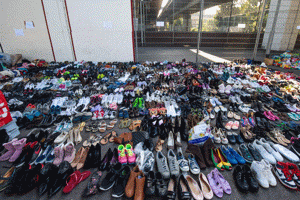 "In terms of funding, we set out some details [on Sunday] with more to come."
No10 indicted the public inquiry into the tragedy will look at why Kensington and Chelsea Council sat on millions of pounds of reserves - without installing sprinklers in the 24-storey block.
The inquiry will be led by a "suitable judge" and its terms of reference will be worked on by people including the Lord Chief Justice, Justice Secretary and officials.
Meanwhile No10 confirmed a "gold command" of many London councils, including Kensington, has now "taken over the entire recovery operation" of helping survivors who vented fury at Kensington's slow response.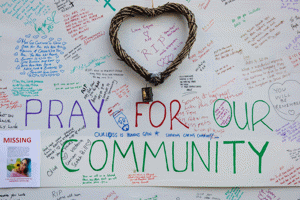 "She [Theresa May] understood action needed to be taken to speed things up and that's what she's done," the spokeswoman said, adding the change was made "over the weekend".
No10 flatly rejected Jeremy Corbyn 's proposal to "occupy" or "requisition" empty luxury flats near the tower.
"We do not support the proposals to seize private property," a spokeswoman said.
No10 also sidestepped a question on whether swingeing Tory council cuts were to blame for the chaos on the ground.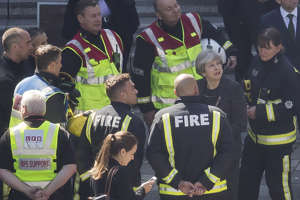 A spokeswoman said: "As the PM has been saying, our focus is now on making sure the residents get all the help they need, drafting in civil servants to help with that, bringing the gold command together and so on."

Downing Street has promised people will be rehoused in Kensington or a "nearby borough" within three weeks.
But the spokeswoman was unable immediately to confirm if that meant a borough that borders Kensington or one further afield.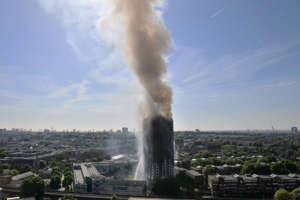 Asked what would happen if councils fail to rehouse people within three weeks, the spokeswoman replied: "That's a very pessimistic view".
And the spokeswoman rebuffed a question on whether the Prime Minister will resign.
She said: "The Prime Minister is chairing Cobra right now. Later on today she'll meet the Irish Taoiseach. After that she will chair a third meeting of the Grenfell Tower task force. On Wednesday her government will set out a Queen's Speech. On Thursday she goes to European Council.
"These are incredibly challenging times with two terrible incidents in recent weeks and she's leading the country through them."