Another witness, Adil Rana, 24, said: "The van was driving towards us to try and basically hit us at speed.
"When he got arrested, he was taunting, saying, 'I'd do it again, I'd do it again'."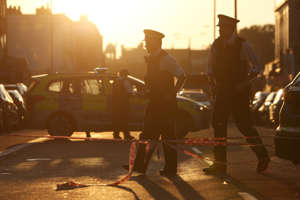 © Reuters Police officers attend to the scene after a vehicle collided with pedestrians in the Finsbury Park neighbourhood of North London, Britain June 19, 2017. Pictures of the van indicated it was rented from a company in South Wales, Pontyclun Van Hire.