Firefighter who gave Princess Diana CPR after Paris crash: 'That night will stay with me forever'

Evening Standard
30/08/2017
A firefighter who gave CPR to Princess Diana after pulling her from the wreckage of the car crash that killed her has said "that night will stay with me forever".
Sergeant Xavier Gourmelon, 50, said he was certain the Princess of Wales would survive the crash after he resuscitated her when she went into cardiac arrest in the Paris tunnel on August 31, 1997.
He was in charge of a medically trained fire crew at the scene and said she uttered the words "My God, what's happened?" moments before she lost consciousness.
SPECIAL COVERAGE: Remembering Princess Diana 20 years on
In his first interview since the crash ahead of the 20th anniversary of her death on Thursday, Mr Gourmelon told how he pulled the 36-year-old princess from the wrecked Mercedes.
He said after giving her CPR, he was convinced she would survive.
Video: Fans of Princess Diana arrive at Kensington Palace to remember her (Newsflare)
Father-of-two Mr Gourmelon, who spent 22 years as a firefighter in Paris before returning to his native Brittany, told the Sun: "The car was in a mess and we just dealt with it like any road accident.
"The woman, who I later found out was Princess Diana, was on the floor in the back. I could see she was alive.
"I could see she had a slight injury to her right shoulder but, other than that, there was nothing significant.

"I held her hand and told her to be calm and keep still, I said I was there to help and reassured her. She said: 'My God, what's happened?"
Heartwarming images of Diana with William and Harry - Provided by Photo services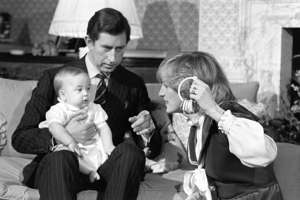 He added: "To be honest I thought she would live. As far as I knew when she was in the ambulance she was alive and I expected her to live. But I found out later she had died in hospital. It was very upsetting.

"The whole episode is still very much in my mind. And the memory of that night will stay with me forever."
Mr Gourmelon, who had only spoken publicly once about the crash via videolink during her inquest in 2007, said he felt able to give the interview as he has now left the fire service.
The princess, her boyfriend Dodi al Fayed and their driver Henri Paul all lost their lives after the car crashed in the Pont de l'Alma tunnel in the early hours.
Mr al Fayed's bodyguard Trevor Rees-Jones survived and is now 49.