Snow blankets eastern Britain as temperatures drop to -5C

The Guardian
17/03/2018
(Saturday morning's forecast provided by Met Office)
Snow has covered large parts of eastern England and Scotland as a cold snap dubbed the "mini beast from the east" heads over the country.
Forecasters said on Saturday morning that the snowfalls had swept in overnight with temperatures down to -5C and that the weather front would continue westwards towards the Midlands and Wales. 
"It will be bitterly cold with some snow for many places over the weekend," Met Office meteorologist Alex Burkhill said.

"There are some very strong winds, meaning it could feel as low as -7C or -8C for some people." 
These are the areas expected to see the most disruption from #snow and #ice later today and into tomorrow. Stav D pic.twitter.com/LcsOJR8gqe

— BBC Weather (@bbcweather) March 17, 2018
By the end of the day, most places will have seen some snow, with the potential for up to 25cm to fall on higher ground in the south-west on Sunday. 

© Getty Images Flights have been cancelled and travel disruption is expected across the UK thanks to the freezing weather.
The Met Office has issued amber weather warnings for snow in London, south-east England, Yorkshire and the Midlands for Saturday and Sunday, with lesser yellow warnings in place for most of central and eastern England and Scotland. 
Take care if you're heading out on Saturday morning, as there are multiple weather warnings in force. Stay #weatheraware pic.twitter.com/wbfLnYAkgE

— Met Office (@metoffice) March 16, 2018
More than 70 flights have been cancelled at Heathrow airport on Saturday in anticipation of the snow and ice, and Highways England has advised motorists to avoid trans-Pennine roads. Network Rail is running empty trains overnight to help keep the network clear of snow, but disruption is possible. 

"The best way to describe this is as a real return to wintry conditions," said Met Office meteorologist Mark Wilson.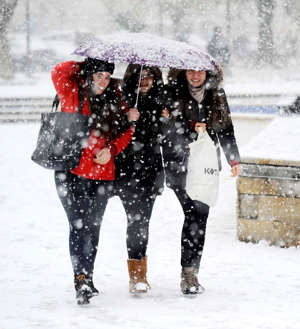 © Getty "The last couple of days have been quite mild across parts of the UK – we got to around 16C yesterday in Wales – but by tomorrow all of us will be back to very cold weather. 'Bitterly cold' is the best way to describe it - temperatures on the face of it probably just around freezing, but with wind it's going to feel well below freezing."
The weather warnings state that travel disruption is possible, rural communities could become cut off, vehicles may be stranded and power cuts may occur. 
© Getty The cold weather is expected to last until Tuesday when temperatures will return to their seasonal norms. 
Highways England's head of road safety, Richard Leonard, said: "Our gritter drivers will be out treating our roads around the clock but it is still important to drive to the conditions when snow is forecast. 
"Make sure you keep your distance and reduce your speed if you need to travel because, even in conditions that seem normal and when the snow is not settling, it can be slippery if ice patches have formed or where fresh salt has not been worked into the carriageway."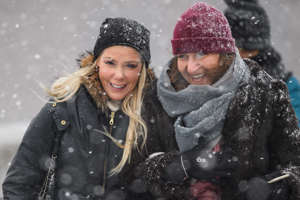 © Getty Most cancellations at Heathrow were on short-haul flights, but British Airways said some transatlantic flights were affected. Lufthansa, Aer Lingus, TAP Air Portugal and KLM all made cancellations, too. 
A spokeswoman for Heathrow said: "While this weekend's weather may result in minor delays and some airlines consolidating flights, significant disruption at Heathrow is not currently expected. 
"We are working closely with our on-site Met Office to monitor the further snowfall expected throughout the weekend. As always, we advise passengers to check their flight status with their airline before coming to the airport."