Gavin Williamson announced as new Defence Secretary replacing Michael Fallon

The Telegraph
02/11/2017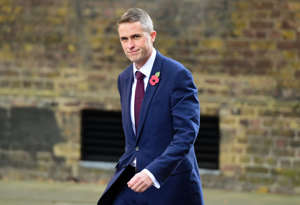 Theresa May has named Gavin Williamson her new Defence Secretary after the shock resignation of Sir Michael Fallon last night.
It was thought that his downfall could create the first ever female Defence Secretary, with Penny Mordaunt and Harriett Baldwin both named as possibilities for the role but Mrs May has instead appointed her chief whip in his place.
Sir Michael quit after admitting his behaviour had "fallen below the high standards required" in the role and acknowledging that what might have been acceptable in the past was no longer appropriate.
The resignation left the Prime Minister facing a reshuffle and deprived her of one of her most experienced and trusted colleagues.
Video: Sir Michael Fallon's career in 60 seconds (PA)
Westminster was waiting on tenterhooks for the new minister to be named, with the two names most widely predicted by commentators being Tobias Ellwood and Penny Mordaunt.
But Mr Williamson, who has risen quickly through the Cabinet ranks, has been moved into the role.
His appointment will come as a surprise to colleagues as his name was not one of those included in the list of potential front runners last night.
Some decent bets on Penny Mordaunt arriving at MOD this morning - I understand it's not Alan Duncan - nothing confirmed and who knows !

— Laura Kuenssberg (@bbclaurak) November 2, 2017
I reckon Tobias or Penny for new Def Sec. Just as guess #Fallon

— David Willetts (@DavidWilletts3) November 2, 2017
The move comes as Scottish Conservative leader Ruth Davidson said there needed to be a "house clearing".

Speaking at a political awards ceremony, Ms Davidson said: "Just because we have a woman in Number 10, at the top of the tree in Plaid Cymru, in the Scottish Conservatives, in the SNP, in the DUP, doesn't mean that sexism and misogyny are somehow resigned to the dustbin of history when it comes to politics.
"Nor, when we look at some of the house clearing that ... needs to happen in the next few weeks, months and years ahead, are we going to say that we didn't need some pretty big shovels for the Augean stable.
"The house clearing that is about to happen needs to happen and we can never go back to where we were before."
Sir Michael's shock announcement came after it emerged he had repeatedly put his hand on a journalist's knee at a dinner in 2002.
His name also appeared on an unverified list of sexual misconduct allegations circulating in Westminster.
In his resignation letter to the Prime Minister, Sir Michael said: "A number of allegations have surfaced about MPs in recent days, including some about my previous conduct.
"Many of these have been false but I accept that in the past I have fallen below the high standards that we require of the armed forces that I have the honour to represent."
Asked whether he was worried that there would be further revelations about his behaviour, Sir Michael told the BBC: "The culture has changed over the years, what might have been acceptable 15, 10 years ago is clearly not acceptable now.
"Parliament now has to look at itself and the Prime Minister has made very clear that conduct needs to be improved and we need to protect the staff of Westminster against any particular allegations of harassment."
For more of the most popular News, Sport, Lifestyle & Entertainment on MSN, Follow us on Facebook, and on Twitter