Grenfell children join Theresa May in garden planting session at Downing Street

Evening Standard
13/06/2018
© Provided by Independent Print Limited Theresa May has hosted children affected by the Grenfell fire at Downing Street.
Around 40-50 children and their parents joined Ms May in planting plants and flowers in the gardens of number 10.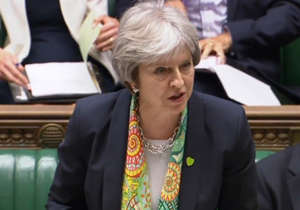 The children invited were survivors and relatives of the 72 people who had died in the fire along with children from local schools who had lost friends in the tragedy.
MSN has launched a campaign to tackle loneliness, which affects 9 million across all age groups and walks of life in the UK. Discover more on this 'silent epidemic': Please donate now
Fatima Elguenuni attended the reception with her son Bellal and her grandchildren.
Her son, his wife and their three young children escaped from the 18th floor of the tower on June 14 last year.
She said the event was very informal: "It was just children playing. They had some games for them, some entertainers where they made flowers and crowns and did some arts and crafts."
Ms Elguenuni said that Ms May chatted with her grandchildren and said hello to her son.
Video - Grenfell Tower fire: One year on (PA)
Pictures taken outside Downing Street show the children in their school uniform wearing green ribbons.
She had previously said that she would be hosting the children as part of Green for Grenfell in a deeply personal article in the Standard. 
In the article, she confessed that she contributed, unwittingly, to the feeling among many victims that she and other people in power "didn't care" about their plight.
"It was a tragedy unparalleled in recent history and, although many people did incredible work during and after the fire, it has long been clear that the initial response was not good enough."
Additional reporting by PA. 
MSN Loneliness Campaign: Who's affected and how is loneliness being tackled? Discover more and please donate now