Grenfell Tower fire: Minute's silence held as Londoners honour victims of tower blaze

Evening Standard
19/06/2017
Londoners across the capital fell silent today to pay their respects to the victims of the devastating Grenfell Tower inferno.
A poignant minute's silence was held across London at 11am on Monday in tribute to those killed and seriously injured in the blaze at the 24-storey west London tower block.
All the latest news, views and opinion on the Grenfell tragedy
Ten people are still in a critical condition in hospital after the tragedy.

Firefighters, police, politicians and members of the public gathered beneath the shadow of the tower to observe the minute's silence.
Haunting Footage Shows Inside Of Grenfell Tower Destroyed By Fire (IBT) 
Several firefighters and police were pictured wiping away tears during the moving tribute.
The minute's silence was also observed across all Government buildings and at schools and offices across London.
© Provided by Independent Print Limited grenfellsilence1906b.jpg

All 24 floors of the high rise uilding have now been searched after the recovery operation was paused on Friday over fears for emergency workers' safety in the building.

Met Police Commander Stuarty Cundy said five of the people killed had been formally identified with the rest "sadly" missing presumed dead.
He told reporters the "awful reality" was that it might not be possible to identify all the victims.

Some families have lost more than one member, he added.
As anger continued in the wake of the disaster, described by London Mayor Sadiq Khan as a "preventable accident", the Government announced those left homeless will be given at least £5,500 from an emergency fund.
Residents will be given £500 in cash followed by a bank payment for the rest from Monday and the money will come from the £5 million fund announced by Theresa May on Friday.
While they welcomed the funding, a group of residents who met Mrs May in Downing Street at the weekend said they had not been consulted before the latest announcement, adding that it continued a "tendency to sideline residents' views".
Earlier the group, made up of survivors of the fire, evacuees from nearby buildings, volunteers and community leaders, criticised Kensington and Chelsea Tenant Management Organisation for its reaction to the disaster.
More than 200 firefighters were called to the blaze in the early hours of Wednesday.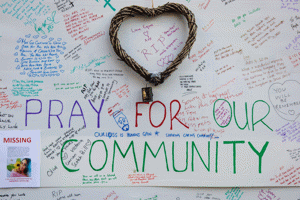 London Fire Brigade said the service has been "overwhelmed" by the support it has received for all over the world.
Emergency services scrambled to the scene in a race to save lives shortly before 1am.

Onlookers were seen applauding firefighters in the streets as they came off shift, while cafes threw open their doors to offer free refreshments to the workers left shattered by a 10-hour battle against the blaze.