Hundreds of doctors turned away from the UK since Brexit as 'insane' visa rules deepen NHS staffing crisis

Business Insider UK
22/02/2018
© Provided by Business Insider UK hospitals doctors nhs surgery surgeon A drop-off in Europeans working in the UK since the Brexit vote is driving an NHS staffing crisis.

Desperately-needed doctors and nurses from elsewhere in the world are having applications to work rejected under "insane" rules.
One doctor recruitment firm said it had seen over 100 doctor's visa applications rejected in the past two months despite the roles being vacant.
The latest immigration figures out today show another big drop-off in the numbers of European arriving in the UK since the Brexit vote.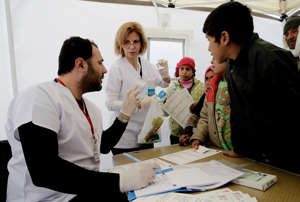 © Getty Hundreds of doctors turned away from the UK since Brexit as 'insane' visa rules deepen NHS staffing crisis This collapse in EU arrivals is being particularly hard felt in the NHS where hospitals also seeing tens of thousands of EU workers quitting the service.

The drop in Europeans wanting to work in the NHS has forced many employers to look beyond Europe. However, strict visa rules brought in by the government mean that hundreds of doctors wishing to work here are now being turned away.
Speaking to Business Insider ahead of the migration figures, medical recruitment firms and NHS employers described an "insane" visa system which is seeing desperately-needed medical staff turned away from the UK due to restrictive immigration quotas.
Related video: Jeremy Hunt apologises to patients for NHS failures (Provided by ITN News)
"That figure is going to grow next month," he said. "These hospitals are waiting. They don't have people to take these jobs." Roles affected include elderly-care doctors, surgeons, and anaesthetists.
Danny Mortimer, the chief executive of NHS Employers, said in a statement to BI that NHS organisations are becoming "increasingly concerned at their inability to obtain permits for essential medical colleagues."
"As we've been seeing across the country, the demand for employers for non-EEA talent is high in recent months. As the largest employer in Europe, the NHS is no exception."
Nearly 10,000 EEA nationals quit the NHS in 12 months following the Brexit referendum, up 22% on the previous year, according to NHS Digital. That decline means NHS organisations have been forced to recruit from outside the region.

© Associated Press London's National Health Service hospitals But the Home Office grants just 20,700 "Tier 2" visas for skilled migrants from outside the EEA annually — around a third of which go to NHS employees — and growing demand for the visas means Britain hit its monthly cap before the month-end for the last three months.

A Home Office spokesperson told Business Insider that the restrictions were necessary in order to tackle levels of migration.
"It is important that our immigration system works in the national interest, ensuring that employers look first to the UK resident labour market before recruiting from overseas," they said.
"The Tier 2 visa route is intended to fill gaps in the labour market. When demand exceeds the month's allocation of Tier 2 (General) visas, priority is given to applicants filling a shortage or PhD-level occupations."
One major issue contributing to the problem is the government's decision to prioritise visas for those higher paid workers, which hits the NHS, which relies on thousands of lower paid health workers particularly badly. The system means the Home Office is currently refusing visas to those hired for advertised salaries below £46,000, up from £30,000 before December.
Related Video: Britain Will Not Have "Mad Max" Economy To Undercut Rivals Brexit Minister Says (Provided by Newsweek)
Certain types of doctor, including emergency care doctors, are typically exempt from the strict visa quotas because their jobs sit on a "shortage occupation list" of roles employers struggle to fill. However, many doctor roles are not included on the list, and temporary doctors earning below £50,000 are not currently being considered.
Platts called for the government to add all doctor jobs to the shortage occupation list.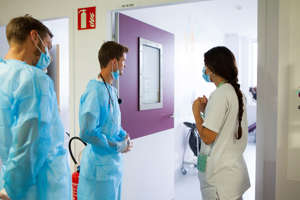 © Getty Pediatric hospital Unit "There are more than 6,000 doctor jobs outstanding across the UK at any given time. How are the NHS going to fill them if they can't go outside the EU?"

"Even if we were to train more doctors, to get to the level these guys are at would be 6 years of medical school, two years of internship, two years of further training. So it's ten years before you get to that point."
"We are in touch with both government officials and business membership bodies to find a way forward that works for both employers and the government," said the statement from NHS Employers.
Labour said on Wednesday that the latest figures showed the government's immigration policy was hurting the NHS.
"The Home Office is turning away qualified doctors despite the recruitment shortage in the NHS. This deficit hurts us all and highlights the immigration mess the Government has created," Shadow Home Secretary Diane Abbott said.