'I had no idea': Extras star Ashley Jensen speaks of shock of finding her husband dead after suicide

Mirror
13/02/2018
© Provided by Trinity Mirror Shared Services Limited Extras actress Ashley Jensen has said she "had no idea" her husband of 18 years was capable of committing suicide, an inquest has heard
Emergency services were called to actor Terence Beesley's home in Camerton, near Bath, on the afternoon of November 30 last year, where they found the 60-year-old in a silver Mercedes in his garage.
Coroner Peter Harrowing concluded today that Mr Beesley's death had been as a result of suicide.
© Provided by Trinity Mirror Shared Services Limited Credits: Getty Images Contributor In a statement read to the hearing Ms Jensen, who identified herself to responding officers as Ashley Beesley, said she came home, found her husband and called the authorities.

She had last spoken to him via text message and email on the afternoon of his death.
She said: "I was extremely shocked by what happened that night and I will never ever forget it.
"Terry and I had been together for 18 years but I had no idea he was capable of what he did."
Paramedics tried to revive Mr Beesley, who played Buxton in ITV's Victoria, but he was pronounced dead at the scene at 6.03pm that day, Avon Coroner's Court heard.
"There is no evidence that I have heard to indicate why Mr Beesley took the act that he did but in any event it is not my function to answer the question why Mr Beesley might have taken that act," said Mr Harrowing.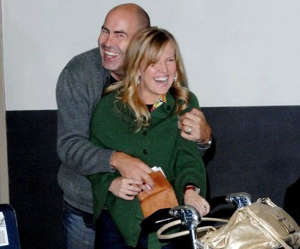 "Mr Beesley knew that his wife and young child were not at the house and he would not be disturbed... I am satisfied beyond reasonable doubt that Mr Beesley made a deliberate act."
Avon Coroner's Court heard Mr Beesley's medical cause of death was carbon monoxide toxicity.
Dr Sam Robinson, Mr Beesley's GP, said in a statement the actor had "no past medical history of any mental health issues".
In her statement Ms Jensen, who played Christina in the US show Ugly Betty, added she first met her future husband in 1999 while working on a production of King Lear.
They married in 2007 and had a child together two years later, living in London and LA before moving to Somerset.
For confidential support the Samaritans can be contacted for free around the clock 365 days a year on 116 123. To donate or learn more about volunteering go to www.samaritans.org.