Jeremy Corbyn is a defender of anti-Semites and is unfit to lead Labour, claims MP facing disciplinary probe

The Telegraph
29/07/2018
© Victoria Jones/PA Jeremy Corbyn, the Labour leader - PA

Jeremy Corbyn is a defender of anti-Semites and is unfit to lead Labour, one of the party's MPs who is facing disciplinary action has said.
Ian Austin is the second Labour MP facing an official party investigation which could lead to suspension after he challenged the leadership's decision not to adopt the full International Holocaust Remembrance Alliance (IHRA) code on anti-Semitism.
Mr Austin said he was "ashamed of the Labour Party" as he took aim at Mr Corbyn and accused the leader of "supporting and defending all sorts of extremists".
Watch: Jewish leader expresses sadness at current Labour culture (Provided by ITN News)
Mr Austin's comments represent the latest escalation in a damaging row over anti-Semitism which continues to mire the Labour Party.
Dame Margaret Hodge, the veteran Labour MP, is also facing a probe after she confronted Mr Corbyn and called him a "racist and anti-Semite".
It comes after three Jewish newspapers - The Jewish Chronicle, Jewish Telegraph and Jewish News - ran the same leader on their front pages for the first time, expressing "communal anger and concern" over anti-Semitism in the Labour Party.
Mr Austin said the Labour leadership was guilty of a "refusal" to deal with the issue as he defended himself against critics who believe he is using the row to score political points against Mr Corbyn.
He said: "It is not that I don't like Jeremy Corbyn. He was never my choice to lead the Labour Party, that is true, but what do people think? That I am so worried about his plans to nationalise the railways or something that I would invent all of this stuff?
"It is actually, if I am honest, I think it is the other way around.
"I think it is because he has spent his entire time in politics on the extreme fringes of the Labour Party, supporting and defending all sorts of extremists and in some cases, frankly, anti-Semites.
"That is why I thought three years ago he shouldn't be the leader of the Labour Party and that is why I think now that somebody with views and a history like his isn't really suited to the leadership of a mainstream political party."
Mr Austin, whose adoptive parents were Czech Jewish refugees who lost relatives in the Holocaust, was sent a letter earlier this month informing him an investigation had been launched after he clashed with Ian Lavery, the chairman of the Labour Party.
He reportedly told Mr Lavery in the House of Commons that the failure to tackle anti-Semitism in the party was a "bloody disgrace" and that Labour had become "a sewer".
The letter, believed to be identical to the one sent to Ms Hodge, said the MP for Dudley North was under investigation for "abusive conduct".
It warned that if Mr Austin engaged in "any future behaviour of a similar nature" he could face "further disciplinary action, including the possibility of administrative suspension".
Mr Austin told the BBC he was "shocked that a party that has got a proud tradition throughout its entire existence of fighting racism has ended up causing such huge offence and distress in the Jewish community in Britain".
He said: "I think this could never have happened before. I am appalled that it has happened. I am ashamed of the Labour Party, I really am, and I think if I'm honest, I think we are becoming a different political party."
It came as it emerged Mr Corbyn had linked a jihadi massacre of 16 Egyptian policeman to Israel when he appeared on an Iranian state-owned television station in 2012. Mr Corbyn said he suspected "the hand of Israel in this whole process of destabilisation".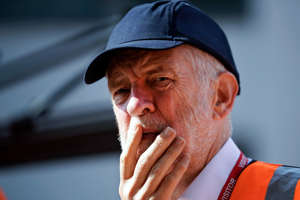 A Labour spokesman said Mr Corbyn's speculation about the perpetrators of the attacks "was based on previous well-documented incidents of killings of Egyptian forces by the Israeli military".
Richard Burgon, the shadow justice secretary, said he hoped the investigations into Mr Austin and Ms Hodge could be resolved amicably as he defended people having the right to express "strong opinions".
He said: "What we need to ensure is that the people who disciplinary action is taken against are those in the party, the small number in the party, who have said or done anti-Semitic things, not those who have strong opinions about things that we should all have strong opinions about."