London marchers call for new Brexit vote
The Financial Times
20/10/2018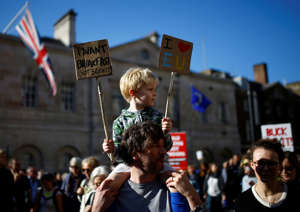 © Thomson Reuters Protesters participating in an anti-Brexit demonstration march through central London, Britain October 20, 2018. REUTERS/Henry Nicholls Hundreds of thousands of people marched through central London on Saturday to demand a new referendum on the UK's membership of the EU, in the biggest demonstration so far in support for a rethink of the historic 2016 vote.
Organisers of the People's Vote march claimed more than half a million people were attending the demonstration, which by the scheduled start time of noon had spilled over from the intended route on Park Lane to fill much of the western end of Hyde Park. 
Watch: Crowds young and old march for 'final say' on Brexit under London sun (Newsflare)
Attendees were due to march through bright autumn sunshine to Parliament Square and hear speeches from representatives of the three main parliamentary parties, including Dominic Grieve, the Conservative former attorney-general. Mr Grieve on Saturday morning told BBC Radio 4's Today programme that he believed the Brexit talks were reaching a "dead end". 
Download the all-new Microsoft News app to receive up-to-the minute news from the world's best sources – available now on iOS and Android
"There may be some sort of deal on offer but one which I have to say looks pretty second-rate to me," Mr Grieve told the programme. "When you get a problem of that sort, in view of the first referendum, the only solution is to go back and say to the public, 'Is this what you really want?'" 
Among the attendees waiting near Hyde Park Corner for the march to start was Steve Gough, 61, from Chichester, who was wearing a "Bollocks to Brexit" T-shirt.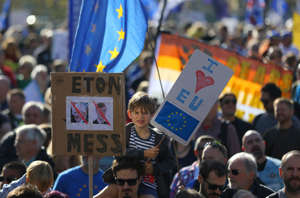 "I think that we deserve a second vote on the outcome of the Brexit deal — and it doesn't seem to be going very well," Mr Gough said. 
Nearby, Sara Wissman, 44, a tourist from Cologne, said she and her family had opted to join the demonstration when they encountered it en route to visiting the Victoria and Albert Museum. 
"We don't want to leave you," she said. "We want you to stay."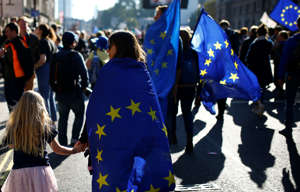 Sunitha Dwarakanath, 28, from south-west London, said she had attended because she believed the government was making decisions only in the interests of the narrow majority of people who supported leaving the EU, not the whole population.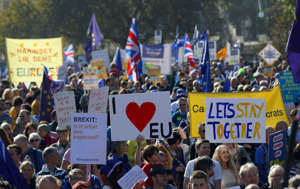 "There was a lot of disinformation that resulted in people voting to Brexit," Ms Dwarakanath said. 
The Metropolitan Police declined to give an official estimate of the crowd size. The People's Vote campaign's estimate of 570,000 attendees would make the demonstration London's largest since a march against the Iraq war drew an estimated 1m people in 2003. 
Theresa May's government has ruled out a second referendum on membership, saying it would be an undemocratic denial of the result of the June 2016 Brexit referendum, which voted 52-48 in favour of leaving. The main opposition Labour party also officially remains opposed, although Keir Starmer, shadow Brexit secretary, last month said the party had not ruled out supporting a new vote. 
However, responding to the organisers' estimates of the crowd size, Anna Soubry, one of the most pro-European Conservative MPs, wrote on Twitter, "Wow! Half a million people on #PeoplesVoteMarch — thank you for coming! Together we can win this."