Man denies ripping off woman's hijab on tube platform

The Independent
17/07/2017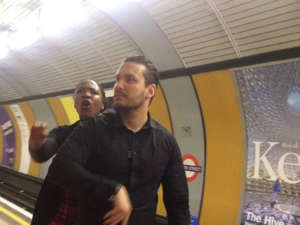 © Independent Man denies ripping off woman's hijab on tube platform A man accused of hitting a Muslim woman and trying to pull off her headscarf has denied the attack, claiming he was trying to protect his girlfriend from racist abuse.
Aniso Abdulkadir said she was waiting for a tube at Baker Street Station in the early hours of Saturday morning when a man attacked her. She claimed her friend was also pinned against a wall and spat at.
Related: How Is Model Halima Aden Defying Beauty Standards? (Provided by: Wochit Entertainment)
She posted a photo of her alleged attacker on Twitter and urged others to share the image in order to identify him, attracting more than 35,000 retweets by Monday afternoon.
© Provided by Independent Print Limited image But Pawel Uczciwek, who identified himself as the man in the photograph, rejected the accusations and said he was simply trying to diffuse a fight.
"I defended my partner by trying to completely diffuse a racist attack from three random females," Mr Uczciwek, who says he is a 28-year-old architect from London, wrote on Twitter.
"As a result, one of the females in particular responded by making malicious completely false allegations against me and I would like to confirm I never hit or attacked anyone."
This man at Baker Street station forcefully attempted to pull my hijab off and when I instinctively grabbed ahold of my scarf he hit me pic.twitter.com/d3B6Av5jkb

— Aniso.safiaadya (@AnisoAbdulkadir) July 15, 2017
The British Transport Police (BTP) said they were aware of Mr Uczciwek's statement.
A spokesman for the BTP said: "Behaviour like this is totally unacceptable and will not be tolerated.
"This incident has been reported to us and we're investigating."