Man detained after 'severe fire' breaks out at Tamworth hospital
The Independent
12/02/2019
(Video by Birmingham Mail)
A man has been detained on suspicion of arson in connection with a fire at a hospital in Tamworth, police said. 

Ten fire engines battled the blaze at the George Bryan Centre at Sir Robert Peel Hospital in Mile Oak after a fire spread through the roof of the building.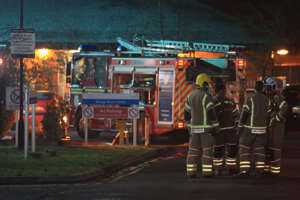 Firefighters work at the scene of a fire at George Bryan Centre at the Sir Robert Peel Hospital in Tamworth, central England, on February 11, 2019. (Photo by Lindsey PARNABY / AFP) (Photo credit should read LINDSEY PARNABY/AFP/Getty Images) There have been no reported casualties but a significant portion of the facility, which treats people with mental health issues, was affected by the fire. 

In total, 11 occupants and staff were evacuated from the hospital and transferred to other local medical centres.
© Provided by Independent Digital News & Media Limited A spokesperson from Staffordshire Fire and Rescue Service said the fire had spread through the roof of the building, saying it was "severe" with "quite a lot of the building involved".

"We're trying to sacrifice part of the building and let that burn to prevent it from spreading to the rest of the hospital," he added.
He said local fire crews were supported by teams from West Midlands Fire Service and Warwickshire Fire Service.
Staffordshire Police said officers are at the scene and a spokesperson said: "There are no reported casualties. All occupants and staff have been evacuated from the centre and are being transferred to other local medical centres. The area remains closed whilst the fire service continue to control the fire."
Witnesses have been asked to contact the authorities.
Additional reporting from agencies