Meghan Markle confirms her father will not be attending the royal wedding

Evening Standard
17/05/2018
© PA Ms Markle today confirmed her father would not walk her down the aisle (PA) ES News Email Meghan Markle today confirmed her father will not be attending her wedding to Prince Harry.
Ms Markle issued a statement confirming Thomas Markle would not attend following a heart operation.
She said in a statement: "Sadly my father will not be attending my wedding.
"I have always cared for my father and hope he can be given the space he needs to focus on his health. I would like to thank everyone who has offered generous messages of support.
"Please know how much Harry and I look forward to sharing our special day with you on Saturday."
A statement from Ms. Meghan Markle: pic.twitter.com/TjBNarmuBU

— Kensington Palace (@KensingtonRoyal) May 17, 2018
The statement came after Ms Markle's father said he would take "a long time to heal" after undergoing a heart operation. The 73-year-old told website TMZ that he was recovering in hospital after surgery following a heart attack.
He has been at the centre of a media storm over "fake" paparazzi photos and days of uncertainty over whether he will be able join Saturday's celebrations in Windsor.
Video: Windsor starts making preparations for the royal wedding (ITN News) 
Mr Markle had been due to walk his daughter down the aisle to marry Prince Harry, and Meghan's nephew had suggested there was still a chance he could be fit enough to travel from his home in Mexico.

The bride's mother, Doria Ragland, is widely tipped as a stand-in.
Related: Prince Harry's former cavalry regiment prepares for royal wedding (USA TODAY) 
She spent the night at Kensington Palace after arriving at Heathrow yesterday following a 10-hour flight from Los Angeles. Meanwhile, more members of the bride's circle of closest friends have arrived in London for the wedding.
The New York-based fashion designer Misha Nonoo, 31, who is credited as the matchmaker who brought the couple together, posted an Instagram picture of herself walking down a London street.
Sarah Rafferty, 45, a co-star in the TV legal drama Suits that made Meghan's name, was photographed with her family sight-seeing at Buckingham Palace.
Meghan's announcement about her father came as a full-scale dress rehearsal for the wedding at St George's Chapel began on Thursday morning.
Members of the Royal Navy's Small Ships and Diving unit, the Royal Marines, Household Cavalry and 3 Regiment Army Air Corps were all participating in the dry run just 48 hours before the wedding is beamed to the hundreds of millions of viewers around the world.
And Royal enthusiasts were already gathering in the town, swerving a ban on tents by sleeping out in the street in a bid to bag a prime spot for the celebrations.
Related: Prince Harry – Meghan Markle wedding: What we know so far (GES Photo)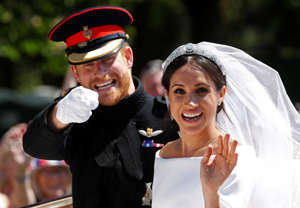 By 9am, groups of locals and tourists had gathered along the streets of the town centre out towards the Long Walk, where the main part of the procession will take place, ready to watch the rehearsal.
Michelle Poggi, 47, who flew in from Melbourne on Tuesday for the wedding, was stationed just metres from the entrance of Windsor Castle. She spent her first night camped out last night, and said: "It was cold. But I love the royals and everything they stand for. I have watched Harry grow up. I wanted to be a part of this. You can't get this atmosphere here on the television." The paramedic was stationed next to Faith Nicholson, 56, from Poplar, east London. She arrived last night after work. The disability liaison officer said: "I have been to all the royal weddings and one funeral, Diana's. The wedding will be an amazing day and I wouldn't miss it for the world. I would tell anyone who is sitting at home now to get off their backsides and get down here. This is a once in a lifetime opportunity."
Meanwhile, Anne Daily and her Cavalier dog, called Camilla, had set up camp just down the road.
Ms Daily said she and her dog would be hosting a hen party for Meghan on the streets tonight. "We'll maybe have some Lucozade and a bit of a party," she said. "We met the couple when they came to visit Cardiff Castle. She was lovely."
Entrepreneurs had even started selling make-shift Meghan and Harry memorabilia. Tracey Ball was selling £10 caps and £15 scarves. She said: "Friday and Saturday will be my biggest days. It won't be like working being here. It's nice to be a part of it."
However, the last-minute preparations were once again overshadowed by the "soap opera" surrounding Meghan's extended family. Her half-sister, Samantha Grant, was reportedly injured following a "paparazzi confrontation" in Florida. Her partner, named by TMZ as Mark, told the website that their car hit a concrete barrier after attempting to avoid a photographer. Ms Grant is said to have been left with a broken ankle and a fractured knee and was receiving treatment in hospital.
Meghan was also facing fresh embarrassment from her estranged half brother Thomas Markle Jr, who visited Windsor to see where his sibling will marry Prince Harry.
The outspoken sibling, who urged Harry not to wed his sister in an open letter, told the Mirror: "My dad will be heartbroken that he cannot be with Meg to walk her down the aisle. He would have moved heaven and earth to be there." But Mr Markle Jr also said his sister will be a "perfect modern princess".
More news, views and analysis on our dedicated royal wedding hub page